Elephant Experiments
I don't work in a series very often, primarily due to boredom. But I still have some tools and mediums, purchased in the past, that I want to try in my elephant series.
Elephant #13: Elephant #12, posted previously, was drawn with a dip pen and India ink. Today I tried a ruling pen and FW acrylic ink on Fabriano Artistico 140 lb Soft Press watercolor paper for Elephant #13. I was able to move the ink with water in areas that weren't completely dry.
I used the ruling pen with thickened black procion MX dye on fabric several years ago and I really liked it. Today I found it hard to prevent a few big ink drops with the acrylic ink - a much thinner liquid. Practice and more practice would be necessary if I were to use the ruling pen again this way.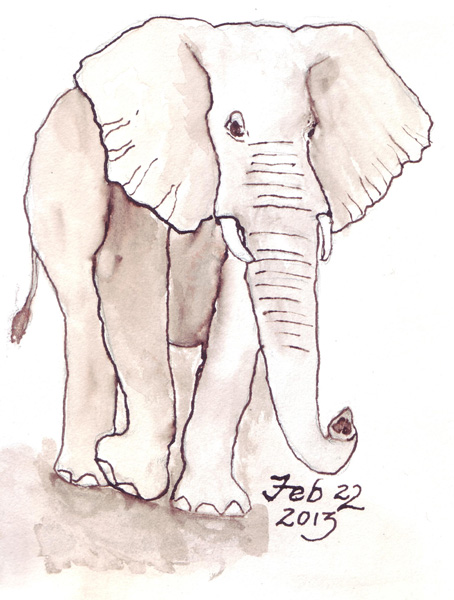 Elephant #14: On Wednesday my art buddies were here to play with Gelli Arts printing plates and acrylic paints on paper. One of the prints I made with white and black Liquitex Basics paint and smooth, slick copy paper was perfect for an elephant collage. I thought I was going to use paste paper for the collage, but made a last minute decision to go with the more textured "Gelli" print.
I looked at Eric Carle's book The Very Hungry Caterpillar and a reference book entitled The Art of Eric Carle to look at his technique. And then I found several wonderful tutorials on his website and a single page PDF with instructions to create a collage. PERFECT! He paints tissue paper with matte medium and acrylic paints and uses them as his palette. He doesn't make paste paper as I originally believed.
My process: I traced the FW acrylic ink elephant #13 to use as my pattern, and then cut each elephant segment through the tracing paper with an x-acto knife. Each segment was cut out sequentially and immediately glued in place with a UHU glue stick using the tracing paper for placement. At the end I added eyes and some detail with a dip pen and India ink.
Here is my Gelli Art print after I cut out each of the segments.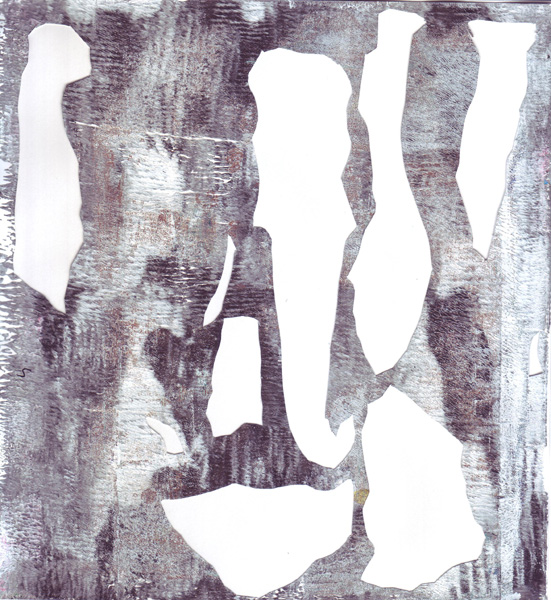 And here is my elephant collage. I'm thrilled with the results!