Experiments with Gouache
I love watercolor, and still haven't fallen in love with acrylic paint. So I decided to slowly buy some Winsor-Newton gouache in one cool primary triad, and to play with them before buying a warm triad. I bought Lemon Yellow, Permanent Alizarin Crimson, and Ultramarine. It will take me awhile to decide whether I want to invest in more tubes - until then I will play.
Here are color samples of the 3 primaries, the mixed secondary colors, and one quick mix of complementary colors. I will explore the full range of complementary colors that are possible, but just wanted to see how close I could get to mixing shades of gold and brown.
I also did a quick opacity test and was surprised that the Crimson wasn't more opaque.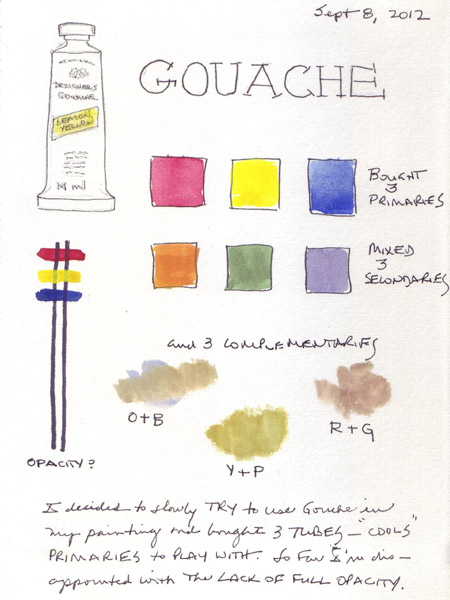 Jane Davies posted a tutorial on the Sketchbook Challenge blog last week, using acrylics and pens to create abstract paintings, and I watched it right after I bought my paints. It seemed like a great way to test my 3 primaries and the range of colors I could mix - as well as assessing the ability to glaze in layers and cover some of the background paint.