Practice for Figure Drawing
I have one sketchbook in which I just practice drawing body parts. Readers of this blog may remember that I slowly sketched the American Sign Language alphabet, from photos that I found on the internet. I also practice drawing faces and feet. While watching the Olympics, I pulled some photos and this sketchbook for practice, and here are the pages. The first two spreads were drawn with watercolor pencils and then painted with water.
A Face (while I paused the Olympics competition to draw a Turkish gymnast) and some hands from magazine photos: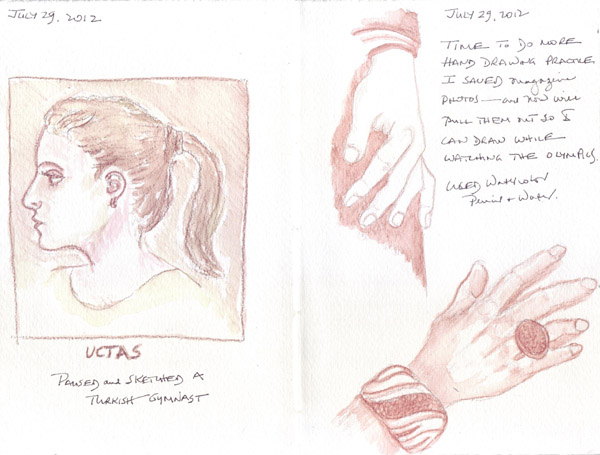 More Hands from Magazine Photos (advertisements):
Portrait Drawing: I no longer remember where I got this idea - but it was from one of the art blogs that I follow. Sorry. I save magazine face photos that fit nicely on my sketchbook page. I then cut the face in half, collage one side to the page, and draw the missing side. This was done in graphite.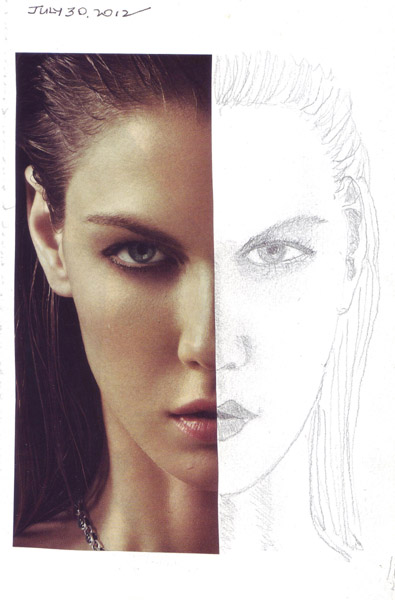 I also have small, articulated figure and hand models that I can draw. I decided to paint them today in order to try two of my new stencils. Melly Testa, in her class Stencil Magic, uses her stencils to make positive images and to paint the negative images. I tried both on "My Models" page. My main goal for the figure was to draw the foreshortened left arm.