Our Annual Visit to New Hampshire
We just returned from a brief visit to Silver Lake, in New Hampshire. We've been visiting our friends there for 10 years, and I've been sketching for 6 of those years. All of my drawings and watercolor paintings are done in sketchbooks, so I've accumulated images of many parts of their home and regular quick drawings of their yellow lab. This year Buffie, the rusty porch lamp, and two flowers that were in bloom were all sketched on a single page.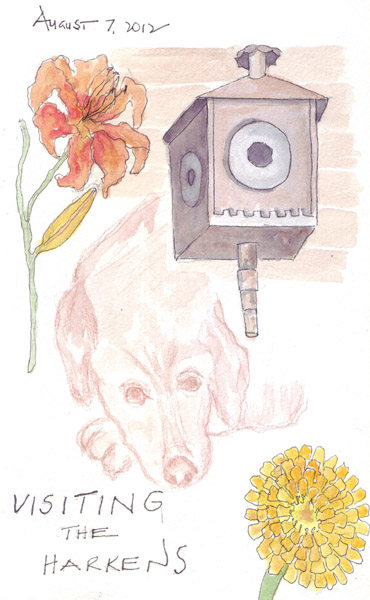 I don't like painting landscapes unless they are urban. The house we visit has a wonderful porch overlooking the lake valley and I've only painted it once before, and that was a very simple effort. This year I decided that it was time to try it again. I mix greens from my 3 triads of primary colors, so that and depicting the dense woods were my challenges.