More Museum Exhibits
After a month of traveling, it was wonderful to see my art friends Pat, Teri, and Benedicte. Pat and Benedicte planned the day and Teri and I joined in at the last minute. Although I previously saw the Edouard Vuillard exhibit at the Jewish Museum, I loved going again so I could sketch another one of his paintings. There was a group touring the exhibit, so I was also able to listen to the commentary by the guide and learn more about the life of Vuillard.
After a leisurely lunch between the two museums, we went to the new exhibit at the Guggenheim: Art of Another Kind - International Abstraction and the Guggenheim 1949-1960. The Frank Lloyd Wright Building opened in Oct 1959, so these paintings (and a few sculptures) were very early acquisitions for the museum. Many artists that were represented are well known, i.e. Pollock, DeKooning, Rauschenberg. But many of the artists were completely unknown to me, i.e. Conrad Marca-Relli, who did wonderful canvas on canvas collages, and Simon Hantai, who may have had the only representational painting in the exhibit, even though it is an imaginary creature.
Here is my version of the Simon Hantai painting, entitled Cut Green Emerald: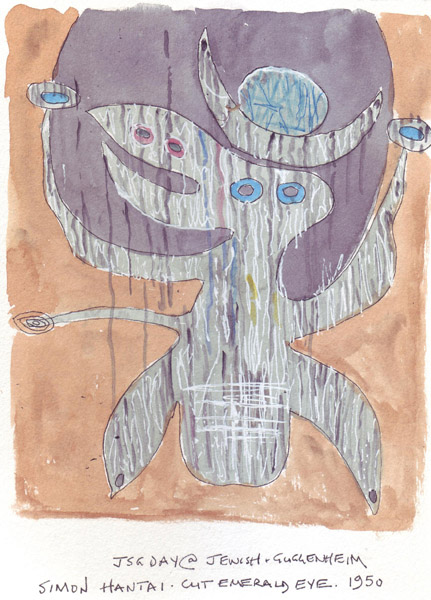 My challenge copying this painting was using watercolor and pen to create something that was painted in oil. It was fun to be back in NYC with friends who also enjoy museum-hopping. Tomorrow will be the American Museum of Natural History with my 5 year old grandson Callum. I'll have to take a few minutes to draw some animals!