Doodles and More
Last week we had a special day with our 5 year old grandson Callum. We rarely get him alone, without his big brother and sister, or slightly older cousin. But we missed the last Grandparents Day at his preschool because of our trip to Venice, so we took him to the American Museum of Natural History. He wanted to go to see Creatures of Light (bioluminescense exhibit) and I wanted to see the Imax film "Born to Be Wild." While walking between the two, I stopped for an incredibly fast sketch of a mountain sheep. I left it in graphite as a reminder of how quickly this was sketched (i.e <5minutes).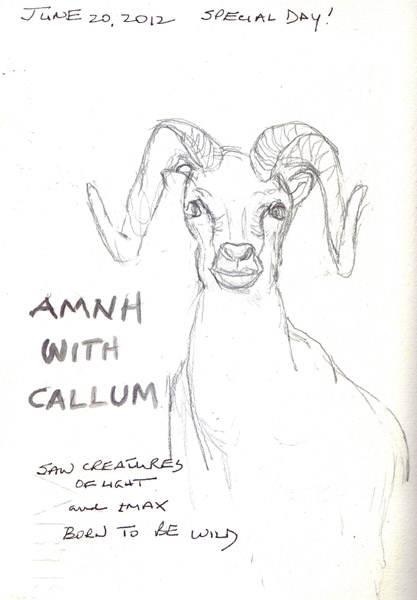 Last evening I didn't feel like sketching, but wanted to push myself. I opened my Reference Photo folder on the computer and selected this photo (taken on a street in Chelsea New York in April). I rarely paint with watercolor, without drawing in ink, so this became a practice sketchbook page. I have no idea what they were looking at and photographing. I was concentrating just on the man and his dog long enough to get this photo.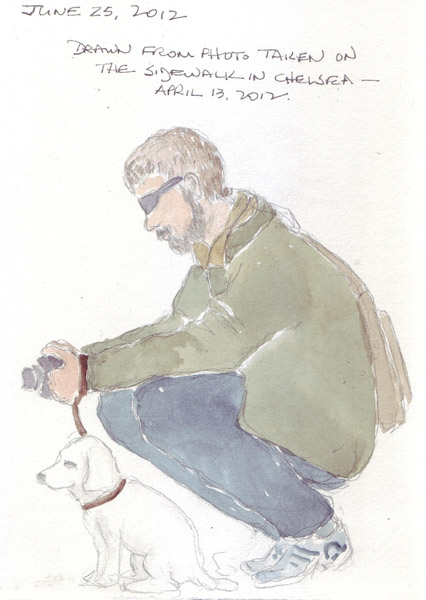 I spent today with my Mother in her retirement complex in New Jersey. We take long walks and usually stop for coffee. While sitting and talking, I doodle, drawing with ink and painting with watercolor pencils. Today she thought that the lady looked a little like her. Usually she tells me why my sketches are NOT her.