Venice Preview Sketches #14, 15, and 16
I made an accordion-folded watercolor "sketchbook" for me to practice sketching scenes in Venice before our trip and these 3 pages complete my Venice Previews. All of the sketches were done from photos that I took in 2002, before I started to keep sketchbooks or travel journals.
A blog reader said that they would like to know what my experience is like - after arriving in Venice - based on my preliminary sketchbook painting. Even before I leave, I feel as if I have more confidence in my ability to paint water and the crumbling texture of the plaster over brick walls of the buildings. I also know how difficult it is to make accurate drawings of the ornate columns on the most famous buildings. But most importantly, I have a wonderful sense of freedom because I will always have these 16 journal paintings that will be part of my Venice experience - and I will now be more spontaneous and sketch my daily sights and experiences, "in the moment."
San Maggiore from Piazza San Marco: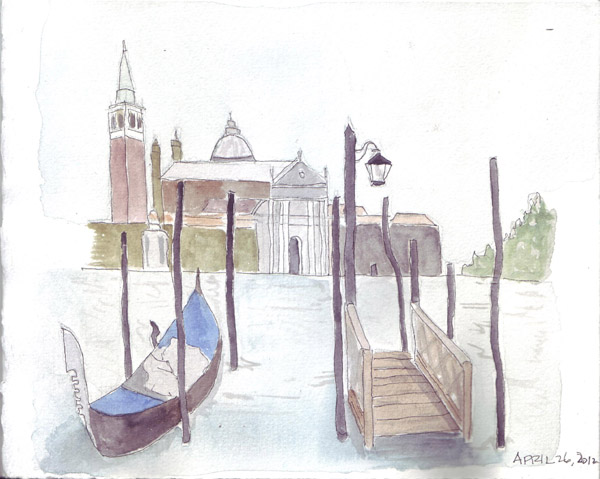 Details - Ca' D'Oro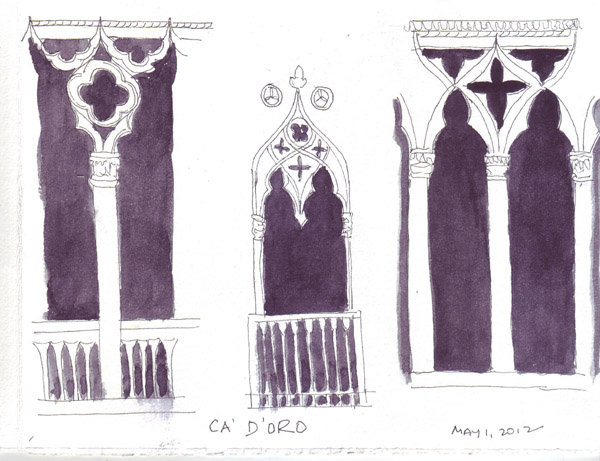 A Random Canal, Tower Photo I took: Maybe I'll recognize the Tower when we arrive in Venice