My Love Affair With Cezanne's Cardplayers
There are many, many museums in the city and I love to visit the art museums to see the exhibits and sketch from the Masters. We saw a Leon Kossoff drawing exhibit at the National Gallery in London (2007) and I was impressed with his return visits to sketch the same few works by Masters many times during his career.
I thought it might be fun to try this, in part to see how my art skills evolve and how my familiarity with the painting may change my drawing over time. On my first visit to the Metropolitan Museum of Art in 2008, I sat in front of Cezanne's Card Players and sketched it.
I sketched it annually and then sketched many of the preparatory paintings in a big 2011 Cardplayer exhibit at the Metropolitan Museum of Art.
Cezanne did 5 oil paintings of the Cardplayers - one with 5 figures, one with 4 (owned by the Met), and 3 with two figures. The 2011 exhibit at the Met was unable to reunite all 5, but there were many preparatory drawings and paintings of individual figures. I sketched some of them on 3 occasions.
I was thrilled to learn that a previously unseen preparatory watercolor of Paulin Paulet, a gardener from Cezanne's family estate, was being auctioned at Christie's NY by a private collector. He is the only figure that appears in all 5 paintings. There was a full page picture of the painting in the NY Times on Friday and I painted it in my sketchbook.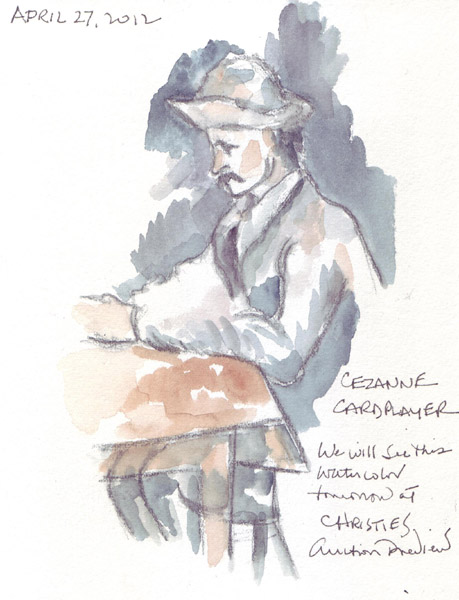 On Saturday, at the auction preview, while many people were viewing the painting, I sketched the head again with a watercolor pencil. I may never get the head tilted like Cezanne!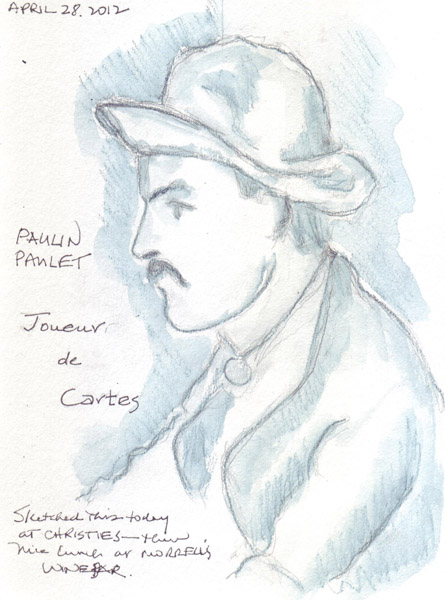 And then waited until I could get an angle for a photo without reflections of the spotlights.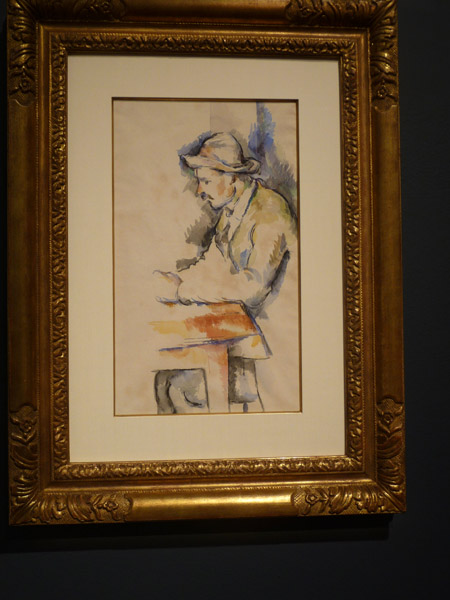 Last night this watercolor sold for $19.1 million dollars!!