Drawing Art Dolls with Raena
When Raena (from Every Day Matters Yahoo Group) and I met for the second time at the Quilt Festival in Houston, we took a few minutes to draw art dolls, as we did last year. These dolls are probably 20-24 inches and are AMAZING! We each chose one to draw, and then I sketched a second one while Raena looked at the whole exhibit.
This is my first journal page - note the little bird on the woman's hand. It is called "Fine Feathered Friend and was made by Nancie Roach.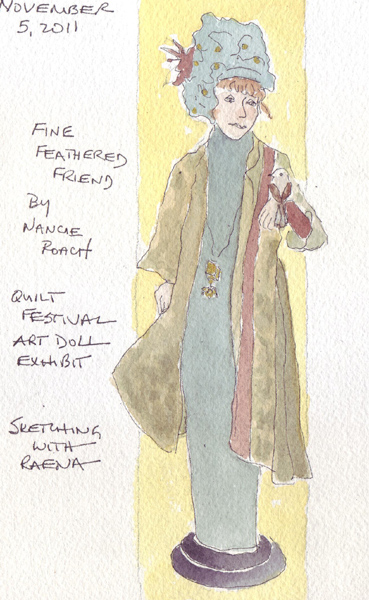 I sketched the same doll as Raena for my second journal page - a fabulous doll entitled "Leo Was Allergic to Dogs" by Neva Waldt.
Here are photos that I took of the Dolls so I could remember the colors for painting them at home. I thought you might enjoy seeing them.

"Fine Feathered Friends" by Nancie Roach.
"Leo Was Allergic to Dogs" by Neva Waldt.