Kate Johnson's Watercolor Pencil Mini-class
I am currently taking Kate's online mini-class about watercolor pencils. I bought a selection of Faber-Castell Albrecht Durer open stock pencils many years ago and use them periodically - by trial and error. They are wonderful for me to carry around as a limited palette, with a waterbrush, because I can use them anywhere - even in museums. I also draw with a watercolor pencil on longer poses at figure drawing and then wet the pencil for shading. But I knew that Kate's class would be a valuable experience - and being able to sign up for it at any time makes it available to all of her fans!
I worked through the exercises in Lessons 1 and 2 so far, really testing my tools - as she calls it. I'm posting two of the small drawings that were part of lots of testing.
In the first, I drew a small scene from one of my recent photographs with colored pencils. Then I wet them and added a little ink. These are giant habiscus flowers along the Hudson River embankment in Battery Park City.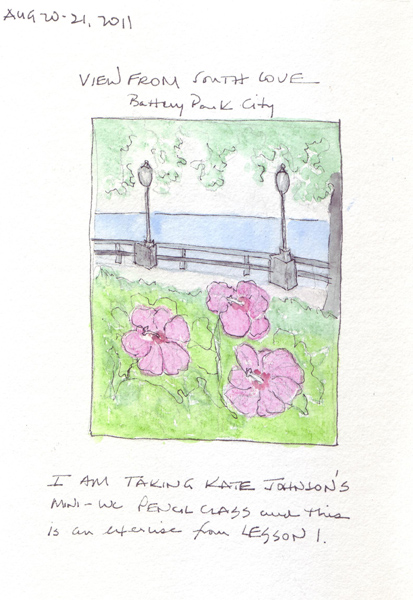 On the second page, I created blocks of color from the pencils directly on my paper - even blending two pencils to create color, This was my palette to paint a drawing that I did of a favorite mug. I love this technique, and was happy that I could even add a few more "dots" with the pencil after it was dry.