Hurricane Irene
My husband, 3 children and their spouses, and our 6 grandchildren were supposed to meet at the beach this weekend to end the summer. Needless to say, that didn't happen. We were packed and ready to leave on Thursday when we all decided that we would be better off in Manhattan and DC than on the tip of Long Island if Irene continued on the projected path.
My husband and I prepared: flashlights, batteries, the old plug-in phone that doesn't require electricity and bottles of water for the refirgerator. In addition we had buckets of water and a bath tub full of water to flush toilets. The pumps that are required for water pressure/flow in apartment buildings also stop working when the power goes out. Here is my sketchbook page to remember the preparations.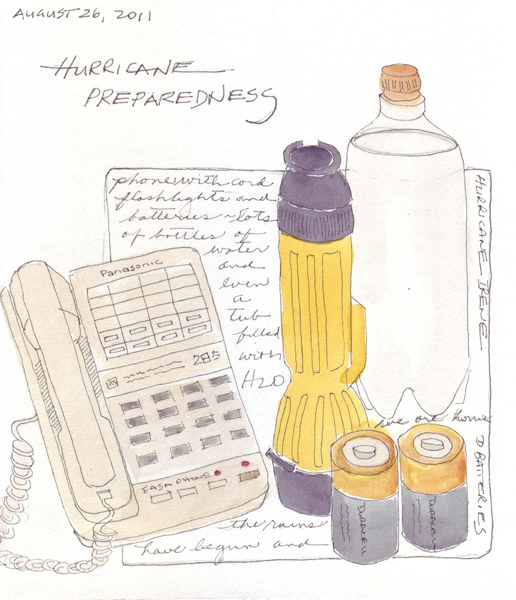 Yesterday I was really bored, but also a little unsettled, as we waited for the hurricane to arrive. We had intermittent heavy rain until we went to bed - and this morning were surprised that 1). we weren't awakened by howling winds and 2) the winds were still rather gentle and it was one hour before landfall here in Manhattan when we woke up. Other areas were not as lucky - there was tremendous flooding inland and hundreds of thousands who lost power. By 11 AM, the rain had almost stopped and life was returning to the streets. I had my camera in hand when this young couple stopped in the middle of a usually busy intersection and took multiple photos - standing right in the middle of the uptown lanes. So I took a photo of them from my window - loving the big pink umbrella!