Alexander McQueen Exhibit at the Met
This exhibit has surpassed all prior exhibit records for the number of visitors, and I can't ever remember seeing lines so long in front of the Met and snaking through the galleries waiting to be admitted to the Galleries. By mid-July they were reporting a half-million visitors entered the McQueen galleries. And the last two evenings of the exhibit this week, the Met is staying open until Midnight!
Alexander McQueen (1969-2010) had amazing creativity, even though his clothes were more like costumes than clothes to wear, even for the "fashionistas." The runway shows for every new collection were spectacles and it is fascinating to see videos of the shows, in the exhibit, along side the clothes and their accessories.
The Metropolitan Museum of Art website for the exhibit is fabulous and you might enjoy seeing the fashions, the videos, and the quotes from McQueen himself. I have been several times and even standing shoulder - to - shoulder managed to sketch a few of the garments. I haven't painted some of the pages yet, but I haven't even decided if I will.
The second garment, the long black coat, is constantly blowing up around the mannequin - a very effective way to show the fullness and construction.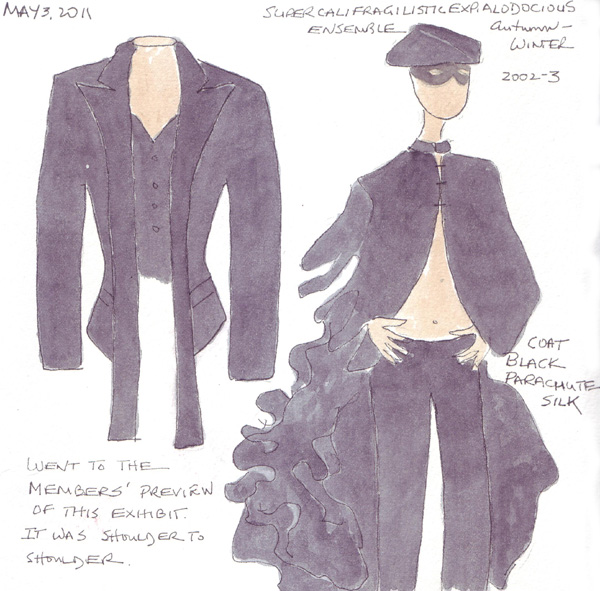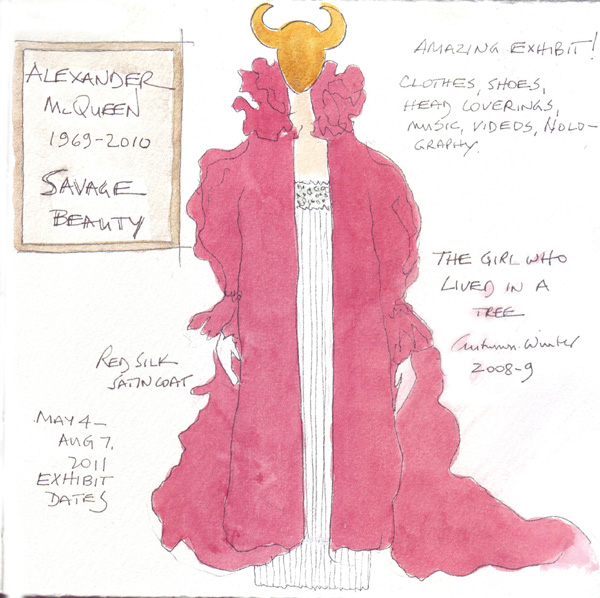 The coat from the garment on the left is made of duck feathers painted gold. It was designed before McQueen's suicide and was only shown, after his death, to small groups of friends in a very small private venue. I painted it with gold gouache, but the metallic sheen doesn't scan. In the gallery there are 5 mannequins dressed in his final designs - and they appear in a large glass enclosed space that represents a huge gold casket.
The garment on the right is from his final runway show - Plato's Atlantis - and the designs were inspired by the fabrics he made. This one is composed of images from snake skins. My painting really looks very little like the exquisite fabric.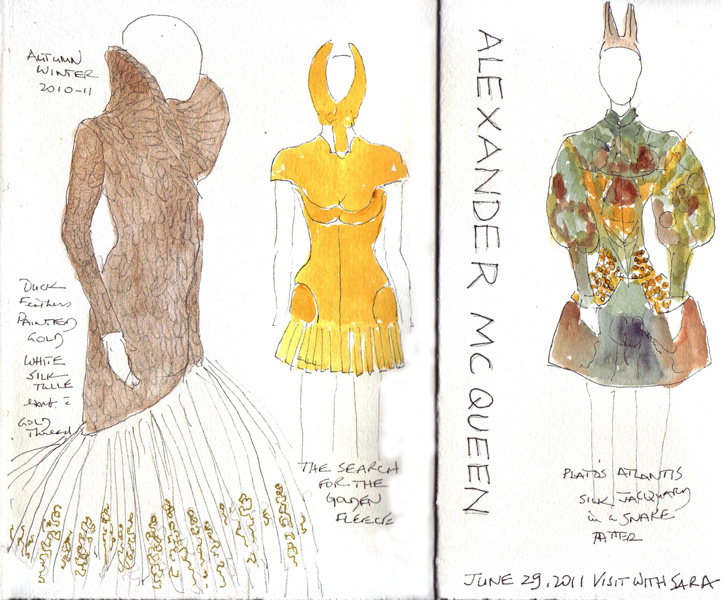 The final two sketchbook pages were done last Friday - and just represent images that I liked. The second dress from the left was white, with a tan belt around the top. Then it was painted during the runway show - and you can see the amazing production here in this very short video. It is the 5th video on the page - No. 13 Spring-Summer 1999.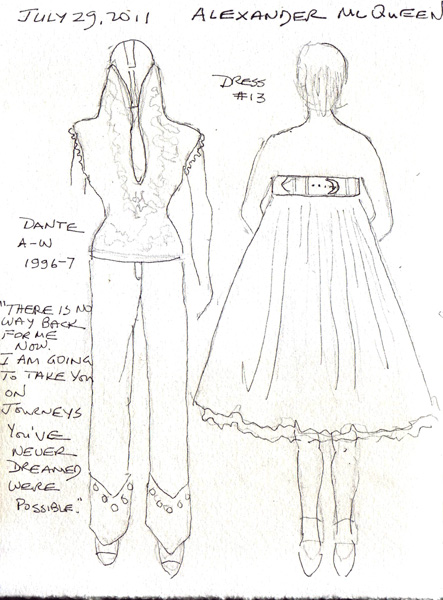 The shoe that I sketched on the upper right is actually a clay mould for ceramic shoes worn by models in the runway shows. And they weren't even the most extreme shoes that the poor models had to wear!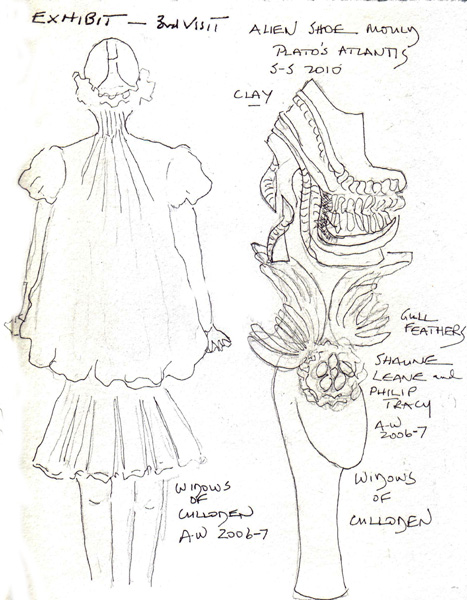 Hope you enjoy this brief visit - and can appreciate the genius of Alexander McQueen.