Scattered Journal Pages
I am posting several journal pages that I did recently, to include some variety on this blog. Tonight will be my last figure drawing session until after Labor Day, so my next blog entry will be more drawings from Sketch Night in costume.
This plant was a gift from friends and it just keeps flowering. I read about gloxinias and know that they need to die back and hibernate later in the season. I only have one set of windows that have a wide window sill and enough light, so I'm afraid that this plant will not be with me next year. I'll try to repot it next Spring, but would love to hear what others do with their indoor gloxinias.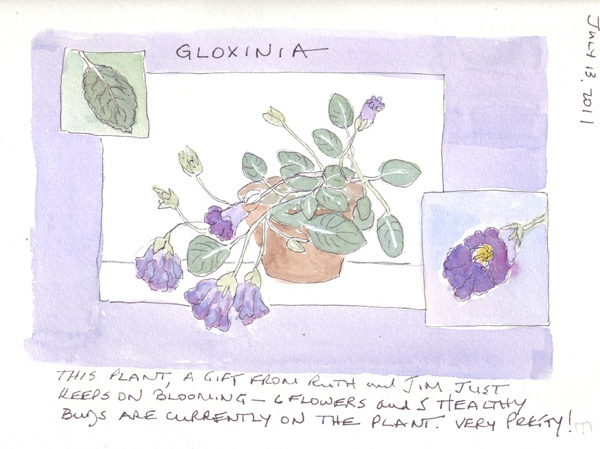 I'm still sending weekly postcards to my dear friend Melly as she enters phase 3 of her breast cancer treatment. She recently mentioned "dancing" when all of this is over, so I redrew my model's shoes from last week and painted them for her for last Saturday's postcard. I hope they make her laugh! Neither of us are the 5 inch spiked heel type of lady.