My Favorite Figure Drawing Exercises
I love figure drawing and try to do regular exercises to help with my drawing technique. Here are 3 of my favorite, regular exercises - in addition to drawing hand photos from an American sign language website.
One of Carla Sonheim's Drawing Labs is to draw 100 Faces. I decided to draw most faces from live models and carry a pouch with watercolor cards, pen, pencil, eraser, 8 watercolor pencils, and the large Niji waterbrush with me when I'm I'm on NYC public transportation. It is challenging to draw without the model knowing - or having fellow passengers comment. And sometimes the model is only in their seat for one bus or subway stop. Here are 2 of my latest.
The drawing on the left was done with an indigo Prismacolor colored pencil - one of Kate Johnson's recommendations for shaking things up.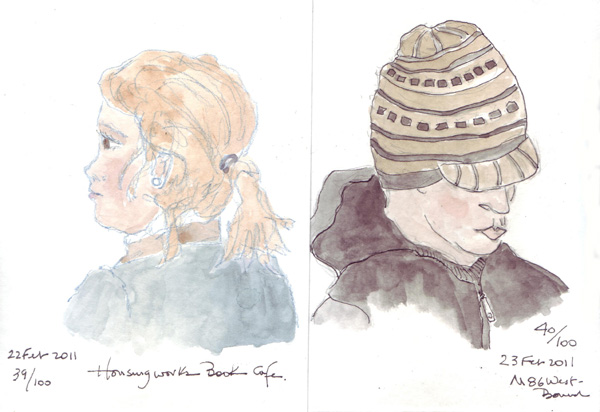 I love the challenge of drawing from Posemaniacs.com - using their 90 second program. I usually will spend 10 minutes doing these drawings to warm up for a scheduled trip to Live Figure Drawing. These figures were drawn with a watercolor colored pencil and then brushed with water.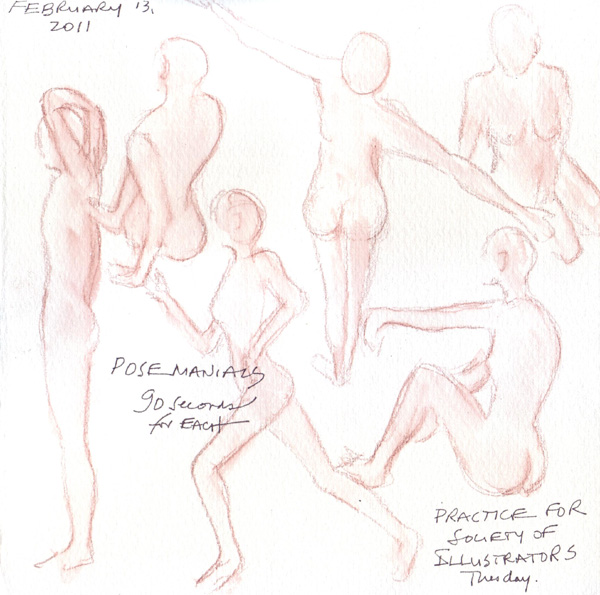 Someone on some blog - sorry I can't give credit where it is due - recommended this exercise for practicing portrait drawing. I look for faces in magazines that are about the size of my journal page and then cut them in half, gluing in the side I will copy. I'd love to have 5" front facing, colored photos of less perfect models (i.e. interesting faces) to draw. But I haven't found a source in color, of that size, in hard copy. I think I need to haunt the used book stores for cheap sources.