Journal Study Group Meets Carla Sonheim
Melanie Testa arranged for Carla to spend time with us between two classes that she was teaching in New York, and then Melly wasn't feeling well enough to join us. We missed her terribly, but did a little text messaging during the afternoon!
Carla did Craft Night at Etsy in Brooklyn on Monday Night and then taught a second class here in Manhattan last night. You can see the demo that she did hourly at Etsy on their webite. There are no close-ups of her work, but you can see her class samples on her blog.
We were fortunate to catch her for the day between her classes and before she returned to Seattle. Several of us worked through Drawing Lab the summer that it was published. Teri taught an online group based around the book and met Carla before in the virtual world. Pat actually did thye 100 faces Lab and has her 100 faces on tags and easily portable. Carla loved them! I'm still finishing a few of the labs in the last 2 chapters - I was derailed in the Nature chapter by all of the snow and ice we had during January and February. It was a thrill to discuss her art background, her current activities, and to share sketchbooks over a long lesiurely lunch.
Following lunch, we took a short walk down Madison to the Guggenheim Museum. I stopped a stranger on the street so we could have a group photo to send to Melanie.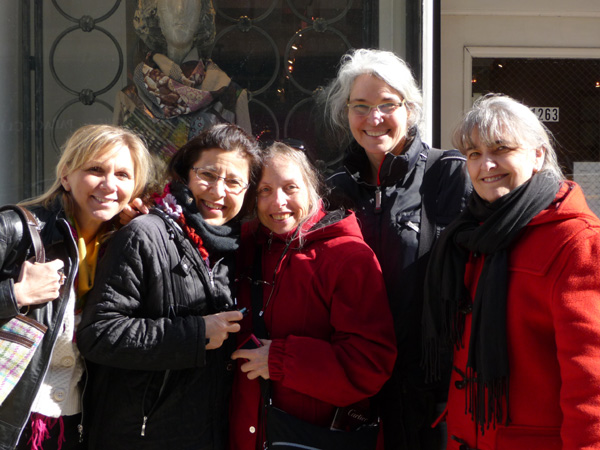 The current exhibit at the Guggenheim was wonderful and we spent several hours on the spiral walkway in the rotunda. There were 100 pieces of art from the Guggenheim Collection - to review the great upheaval in the art world between 1910 - when artists began to form groups in Europe, write manifestos to be shared with the public, and move in new directions. This period ended abruptly in 1914 when War was declared and "artists were snatched back to their mother countries to join in the war effort." The Guggenheim doesn't have an online catalogue of the paintings, but does have an informational video about the exhibit on their website.
No photographs were permitted so I sketched elements of one of my favorite paintings and then painted it at home last night from a purchased postcard. This is Franz Marc's "Yellow Cow." My cow is shorter and plumper than the original.