Museum of Modern Art: Picasso's Guitars
Picasso's Guitars 1912-1914 just opened at the Museum of Modern Art. The museum website for the exhibit is wonderful and ArtDaily.org has a great discussion of the exhibit with several photos. I saw "Guitars" last week with my Journal Study Group friends and did several sketches.
I enjoyed reading and hearing about the uniqueness of Picasso's cardboard and string primitive wall sculpture and never realized what an important step this was in art history. My sketches include a flat version of the cardboard guitar, the metal guitar from the front and side to show the actual 3D shapes, and one of the exhibit collages - Student with a Pipe - just because I loved it!
Cardboard and String Guitar Sculpture Sketched with Watercolor Pencils: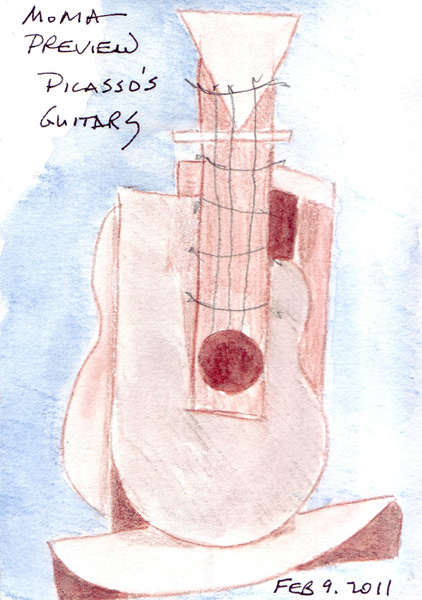 Two Views of the Metal Guitar - sketched at the exhibit and painted at home: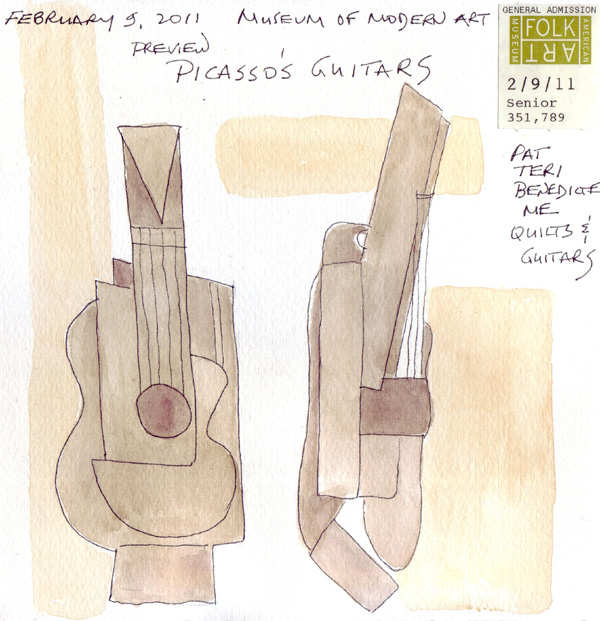 Collage - Student With Pipe: I sketched this piece at the exhibit and then redrew it at home in this version. There is a map of the galleries at MoMA as the first layer, then a layer of absorbent ground, then my drawing and watercolor paint to complete the image.