Art Goals 2011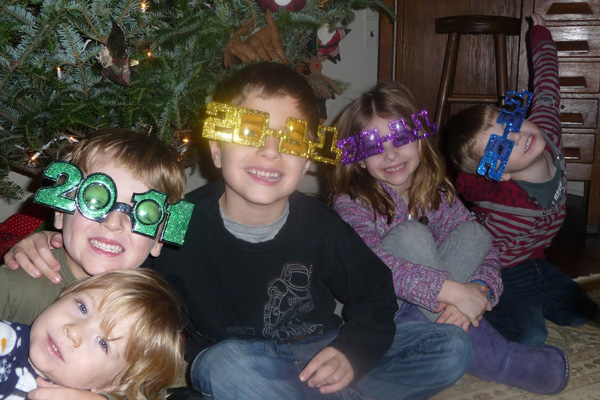 Five of our 6 grandchildren join me in wishing everyone a Wonderful 2011!
Art Goals 2011 : 5th Blog Anniversary
I am a self-taught artist - someone who began this journey slowly in 2003 because of Gwen Diehn's book The Decorated Page, and more intensely in 2005 when I partially retired, joined Everyday Matters, and then started this blog (Jan 4, 2006). Needing to make things is not new to me. I was a seamstress, then a quilter, then silk painter for decades. But art on paper was new and wonderful.
I set annual goals in art (and more briefly with my other passions) and outlined my art progress for last year in the last blog post of 2010. Here are my preliminary art goals for 2011.
Long Term Goals: Develop better drawing and painting skills on paper and with dye-painting and surface design on fabric. Have fun and be bold - I am retired!
1. Drawing Skills: I will continue to draw daily and go to live figure drawing at least once per month, but I need to mix it up a little more. I may be daring and try one 20 minute sketch with a paintbrush!
A. Draw with Different Tools:
More drawing with pens: Pentel Pocket Brush Pen, Ruling pen, dip pens, different color pens etc.
Try drawing with Conte pencils, maybe even charcoal, more soluble graphite - especially at Soc. of Illustrators.
Start working through my new figure drawing book from Casey, work on Dodson Drawing Book and finish my 100 faces project from Drawing Lab - trying to explore other tools,
B. Draw More Challenging Subjects: i.e. get back to architecture, body parts. ! can't allow my handbound watercolor journals to become too precious. I will prioritize among my daily sketches - first a visual journal entry if I've been out and about that day or have an important subject to draw, then hands and feet or other body parts, then architecture (NYC etc).
Finish American Sign Language photos of hands and put together a book of reference photos of hands and feet
Make book from my reference photos (NYC photos to begin) so I have some things ready to draw at night when I'm stuck. Try to think like an architect when starting the sketch and analyze basic structure.
Try self-portaits and drawings of our family.
2. Watercolor Painting Skills: Main Goal for the year is to increase range of values! Glaze more.
Technique: Work on textures, shadows, reflections, sunshine/shadow, day/night lights
EDM Challenges - have almost an entire year that I can do - will print out, cut up, and put in a container near my art supplies. When I am totally uninspired any day, I can pick a challenge from my "EDM challenge jar."
Other challenges: 3 watercolor pencils only, new background with preprinted pages, new borders, inchies in grid, or vertical slices, or progressive abstractions, tracing paper collage over painted pages, grids for portraits, more Yupo for fun, thermofax screens, Paint same picture in different color triads etc.
3. Artist Books: I would like to make more, but I need to be motivated re: subject.
Make my daily watercolor sketchbooks with book cloth I make with dyes/surface design techniques
Make accordion books for special projects
Make a flag book with Journal Study Group for our tags
4. Monthly Book Reading List: My Personal Creativity and Art Curriculum
To Reread: Twyla Tharp: The Creative Habit, Travel Sketchbook books - may get something different from these now (Mari Le Glatin Keis: The Art of Travel with a Sketchbook, Moira Huntly's: Sketchbook Secrets, Richard Schilling: Watercolor Journeys. Add others - i.e. Taking a Line for a Walk etc
To Read: Select from among the Following: Eric Maisel: Coaching the Artist Within, Bee Shay: Collage Lab, Michael Hampton: Figure Drawing - Design and Invention, Charles Reid: The Natural Way to Paint (figures), Lisa Engelbrecht: Modern Mark Making, Claudia Nice: Creating Textures in Pen and Ink with Watercolor, Cathy Johnson: Creating Textures in Watercolor, Bert Dodson: Keys to Drawing With Imagination, Jean Dobie: Making Color Sing
5. Continue to develop the friendships that I've made with others - through Everyday Matters, my blog, and other contacts in the creative community - especially my Journal Study Group.