A Remains of the Day Journal
One day in December I followed a few links, to another few links, and unexpectedly found Mary Ann Moss, her blog Dispatch From LA, and a reduced fee for her "Remains of the Day Journal Class." I was just finishing lots of sewing, quilting, drawing, and painting and knew that I would want something to look forward to as 2010 ended. The class is ongoing and consists of 3 PDF files, 27 Vimeo videos which are very easy to access and detailed enough for instruction, a Yahoo group and a Flickr site. It is self-paced and available online indefinitely. Exactly what I needed in the midst of the holidays.
A Remains of the Day journal has a fabric cover, over paper, and random papers with lots of stuff sewn onto them as the folios. Mine is 6" X 9", has 3 signatures, and 8-9 folios plus watercolor paper per signature.
The Book Cover: I gathered scraps of many fabrics, both cottons and silks, that I hand dyed or screen printed, or painted with procion MX dyes. These were sewn together with a variegated color Sulky rayon thread on the top and regular sewing thread in the bobbin. I even had an old silk rose made from some of my dyed fabric begging to be used.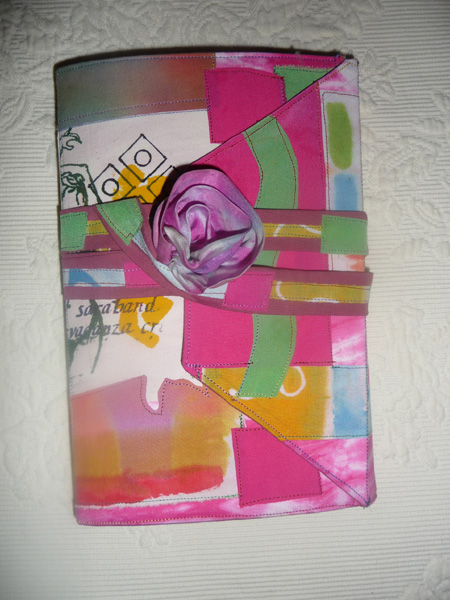 The Complete Cover, Unfolded: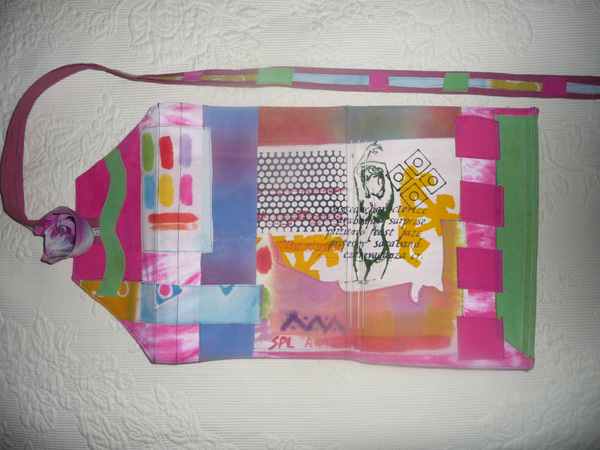 The Pages: During the next week I went on a hunt for papers and ephemera that were meaningful to me. I wanted stuff from art (including some of my early watercolor test pages), quilting and sewing (a piece of my wedding dress), family/grandchildren, Journal Study Group, museums, ballet, family research, cooking, books, NYC, women in medicine, Columbia University, travel (London and a piece of wrapping paper from Venice), hematology, and envelopes that were sent to me with specific types of return addresses - T.Gentry, New York Public Library, and an envelope from my Father one month after we moved to NYC. And I found lots of papers to use - in turn making them part of a detailed memory book for me.
But I also didn't want it to be a scrapbook. I wanted to add original art throughout the book, so I put in a few pieces of watercolor paper (90 lb Fabriano CP) and some plain paper and graph paper for drawing. There is also one transparency and one page protector that I used as folios. I plan to draw/paint on watercolor postcards and tuck them into the pockets and flaps.
Here are a few of the pages (from 100 total), each containing a variety of paper scraps to "decorate the pages," make flaps, and pockets. When the journal is used, more paper will be added with writing and drawing throughout. It is hard to explain how these journals are used. It is so different than the watercolor sketchbooks I make that it was FUN to make and I'm sure will even be more fun to fill up.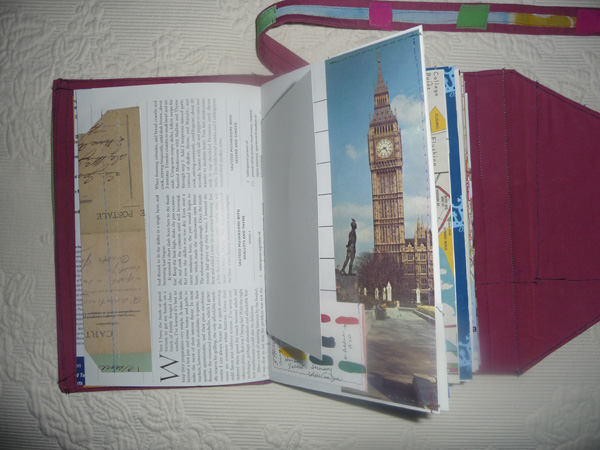 There is a piece of watercolor paper extending up from the fold - this is one of many scattered throughout. The beige paper on the left is a flap that will hold watercolor postcards and paper with writing.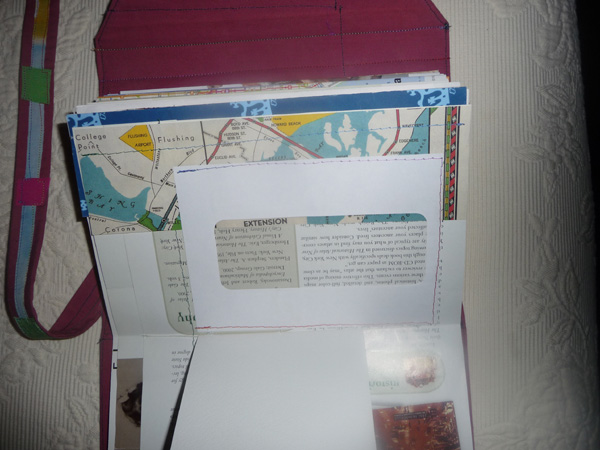 More watercolor paper and a pocket sewn on to hold drawings and writing.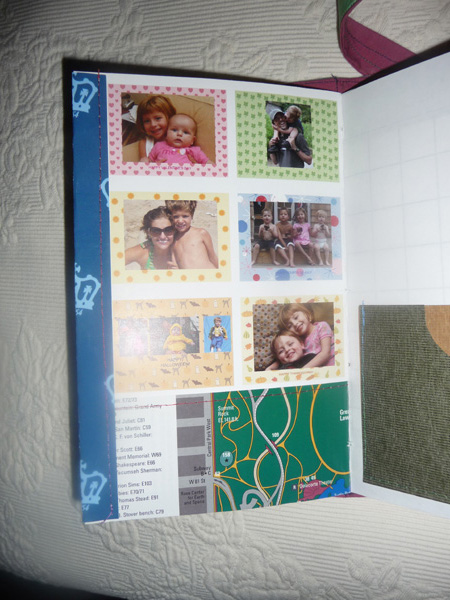 On the right: Photos of grandchildren, a strip of Columbia University gift paper and a map of Central Park. Watercolor paintings will be added as flaps from the side and top of the page.On the left: A gridded piece of paper (for writing/drawing with a pocket meant to hold drawings, writings, other ephemera.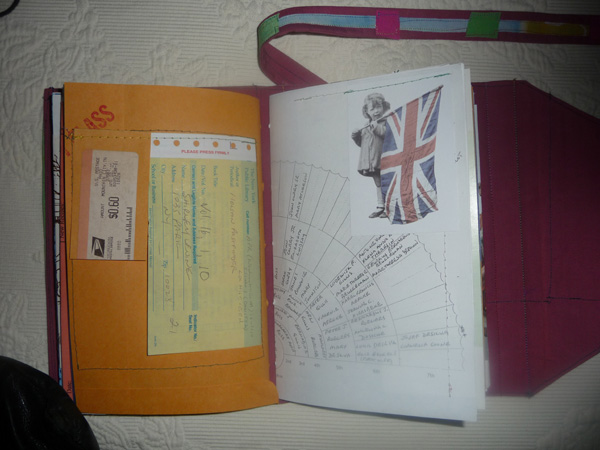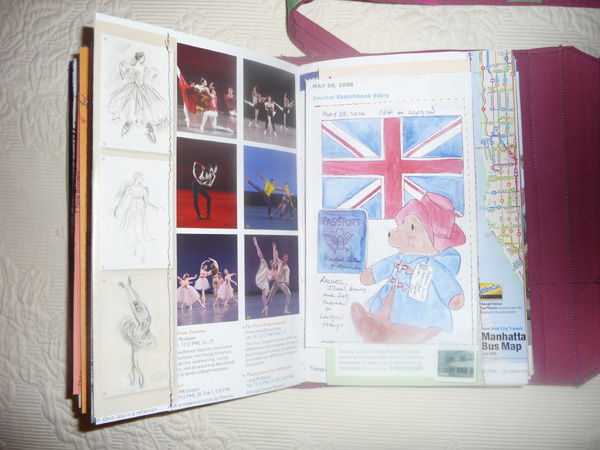 The page on the right is accordion folded and can have art work on the sections. Paddington is from an old journal entry of mine the day my daughter and her family moved to London.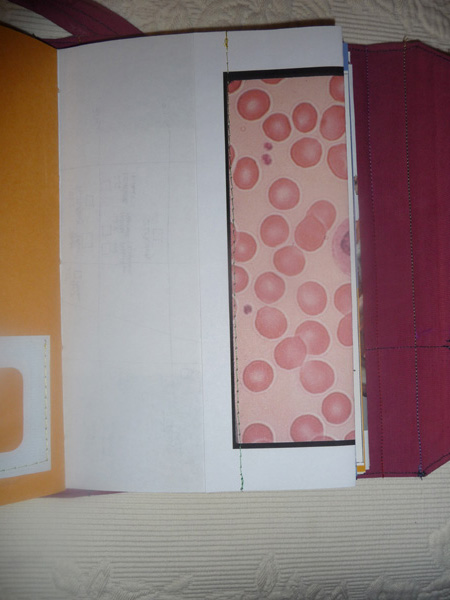 A plain piece of drawing paper with a photomicrograph of red blood cells to make a pocket on the right and a space for writing, drawing, and a smaller pocket on the left.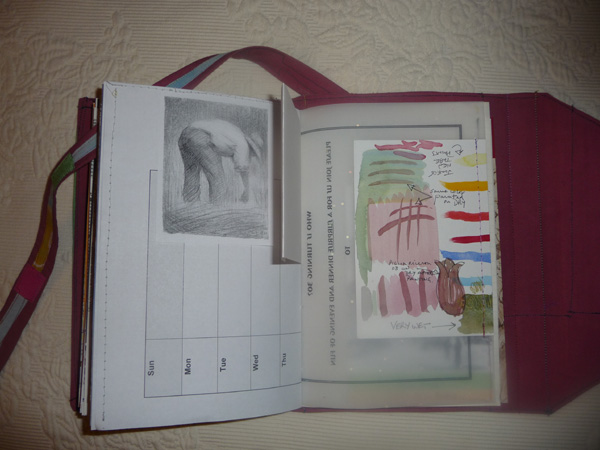 Places to write, a piece of watercolor paper in the fold, a card on the right to create a flap to hold more paintings.
I thoroughly enjoyed this class and the process of making the book, and I LOVE the book. I expect it will get very fat as I fill it with random papers, but that is what will make it even more personal as a visual journal. Mary Ann Moss makes these for series of photos as a daily visual journal and to add writings and postcards while she is traveling.