Visual Journal Pages - Random
I love to create journal pages that reflect my daily life - and post them only occasionally to my blog. Since I started sketching daily in Jan 2007, I filled 33 sketchbooks in addition to travel sketchbooks and those devoted to figure drawing. Here are 3 recent daily pages that I like:
I volunteer for Goddard Riverside, a settlement house on the Upper Westside of New York, sorting new books donated by publishers each Fall and then working at the annual Book Fair where the books are sold for 50% or less. This page was created by sketching the main characters of 3 books that I bought for our grandchildren.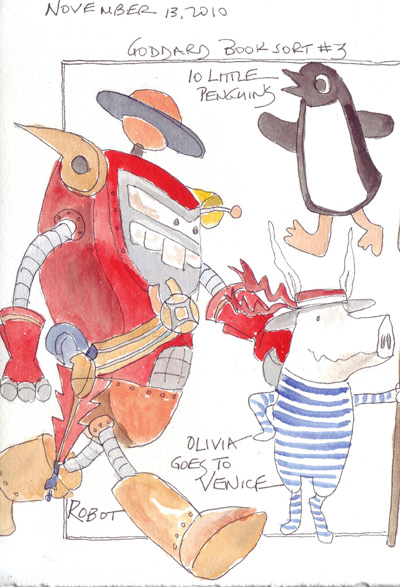 We take our oldest Grandson to 4 NY Philharmonic Young Peoples' Concerts each year and he gets to try instruments in the Kidzone, which is held the hour before the concert. Last Saturday was a concert on Baroque music and he was able to try the harpsichord, and play a violin (which he does anyway.) The violinist picture on this page is the image from the Kidzone violin site in Avery Fisher Hall.
I spent last weekend planning and making some Christmas gifts for the children and decided to draw a grid page, in case I want to make some fun foam stamps for the season.