Sonheim Lab Drawings 35, 37, 38
I still sketch from Carla Sonheim's book Drawing Lab, and hope to finish all 52 exercises by the end of Winter. I periodically post some of my 100 Faces (Lab 16), but have only completed 36/100. I have a zipper pouch with cards cut from watercolor paper, pencil, pen, eraser, 8 watercolor pencils, and a watercolor brush that I carry with me when I know I might have a chance for a live Face Drawing. I'll post a picture of my great pouch with the next batch of faces.
Lab 35: Browse a magazine and rip out a few pages that speak to you. Then collage one or more elements to a page and add a sketch around the collages. I picked up the Sunday NY Times magazine and found this mask/color samples, and didn't want to look for anything else. It spoke to me!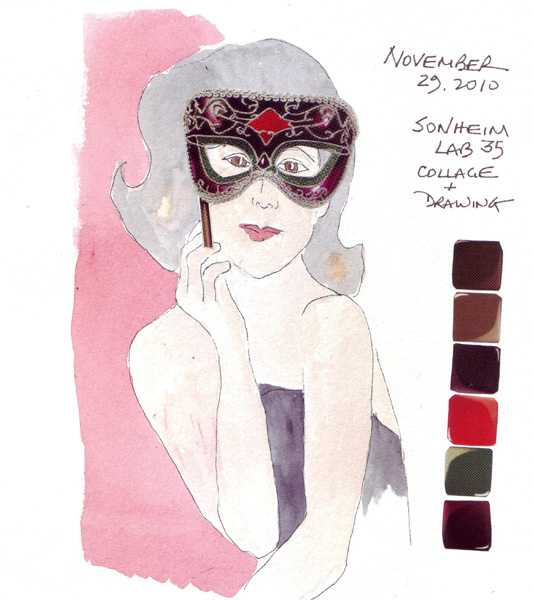 Lab 37 Instructions for this lab are as follows: Quickly make a list of 20 things. Using a random number generator (she provides the URL for one on the web), draw each item in the order that they are "selected" as a random number.
My list of 20 items is on the left side of the spread.
This was great fun and another one of her terrific methods for making original drawings.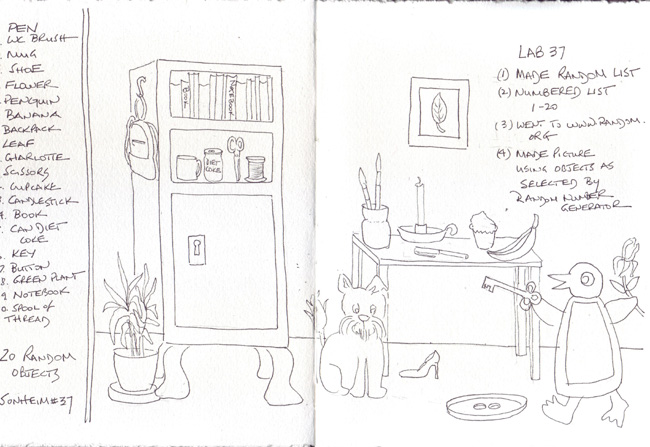 Lab 38: Sidewalk Crack Drawings
I photographed sidewalk cracks for several months while walking around New York City. When I finally got to this Lab, I selected a photo, rotated the image on the computer, and finally saw a little lamb. I should have left out the curb edge (upper left corner) and the bottom of a scaffold support (bottom left corner) - but I hope you can see my lamb anyway.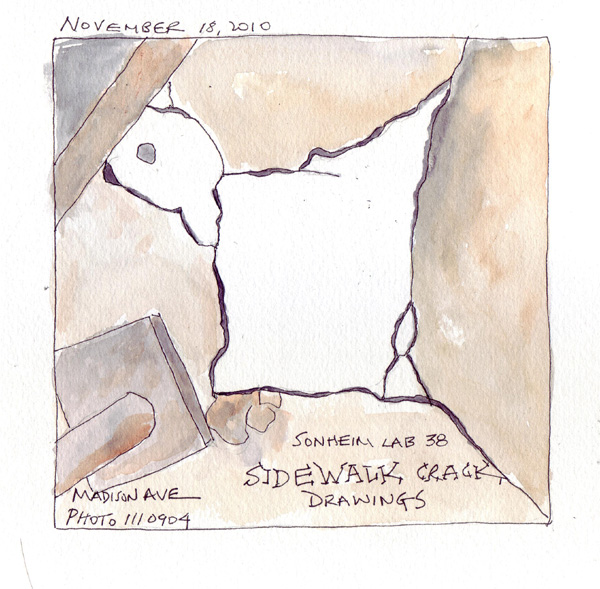 Katherine Tyrrell, on her blog Making a Mark, posts monthly data re: art book ratings and sales. I'm not surprised that Drawing Lab remains tops in sales for Drawing Books. It is a great book if you want to loosen up and have fun - especially with a group.