Thanksgiving 2010
My husband and I cook Thanksgiving dinner for family and friends since moving back to the Northeast in 1993. Over the years the number of hors d'oeuvres prepared to go with the champagne has increased to 7, but the rest of the menu remains almost fixed. As with most families, everyone has their own personal favorite dish and it is hard to change any part of the feast. I do rotate among 6 different soup recipes based on whim, and my daughters-in-law bring the sweet potatoes that they can't live without.
This turkey was drawn from a photo on Wed during one of my cooking breaks.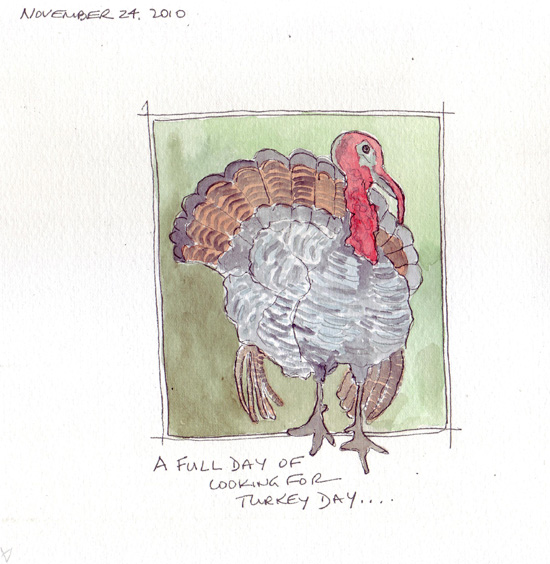 On Thursday we put out almost 20 champagne glasses (none for the 5 children!), and to keep them from being mixed up during our long pre-dinner event, I put fobs on each stem. These are the two that my husband and I used on Thanksgiving. As the cooks, we wander back and forth among living room, dining room, and kitchen, so we are forever searching for our glasses. Our guests select their own fob and then just need to remember it for 2-3 hours!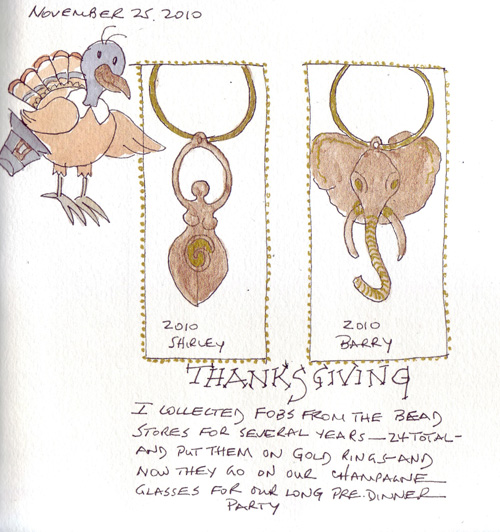 Hope everyone had a wonderful day! Now onto the rest of the Holiday season.
Next posting: I finished making my Christmas tree ornaments for our children and grandchildren - another annual event.