Sydney's Winter Adventure
Sydney will turn 6 on Monday and her younger brother Callum will turn 4 on Sunday. Celebrating Hannukah, Birthdays, and Christmas all within a few weeks is too much for them, so I took Sydney for a "Birthday in June" art supply shopping trip the last two years and will see what special presents/adventure Callum will want this summer, instead of now. This year I also decided that Syd and I needed a special day for her birthday and yesterday I picked her up from school after an early morning dismissal and we headed to midtown to Grand Central Station and Bryant Park - to see their Christmas Villages (crafts booths), watch the ice skaters, photograph the Christmas trees, and take a carousel ride. Then we headed to Bead World - our real destination - and she picked out 10 special beads for us to put together for a "fob" for her school backpack.
Her hat wasn't keeping her ears warm so we decided that she needed a pair of earmuffs like I was wearing. Here she is happily showing off her new pink earmuffs!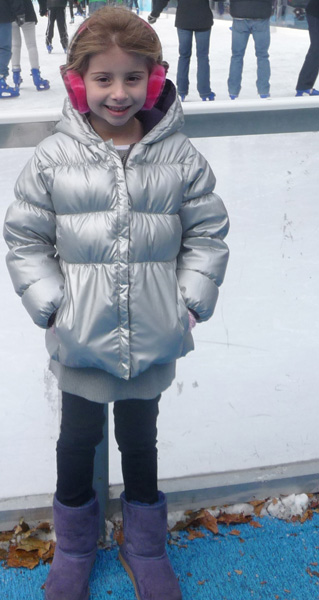 And my sketch of her in my visual journal to remember this happy occasion.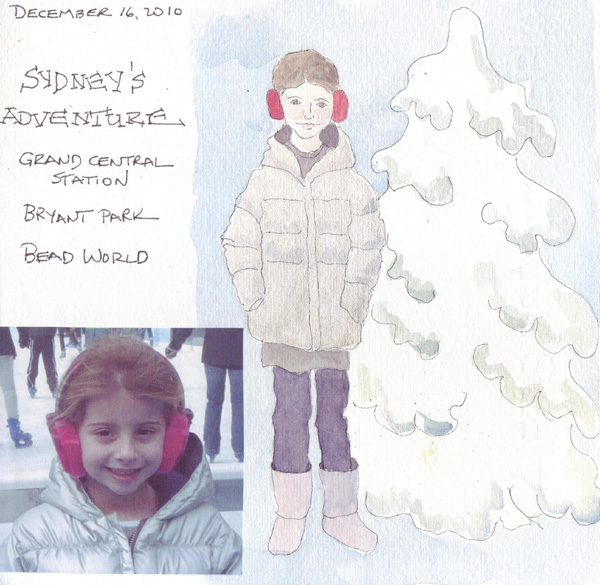 Regular readers of my blog will know that I only sketch and paint my grandchildren from the back - this may be a new beginning.... I painted her silver jacket with WN silver gouache which looks great on the page, but doesn't scan as a metallic.