Strathmore Visual Journals and a Pentel Pocket Brush Pen
Four really scarey-looking "almost one continuous line" drawings of a face. In spite of watching Picasso do this on a brilliant DVD, I have trouble figuring out how to draw all parts of a face without lifting my pen.
Many of my artist friends love drawing with a Pentel Pocket Brush Pen. I have trouble controlling it, but in addition, it is not water-resistant on the Fabriano Artistico 140 lb soft press paper that I bind in my watercolor journals.
So today I decided to test it in the Strathmore Visual Journals. You can see all of the other tests I've done in these journals by clicking on the Strathmore category on the right sidebar. The paper used on the bottom right was watercolor 90lb, but I lost the label while cropping.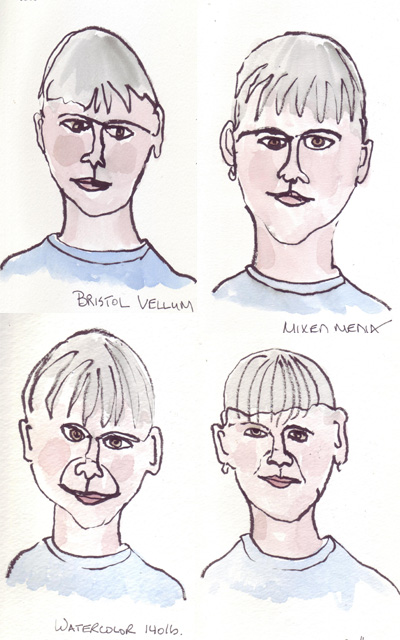 I quickly sketched each face, waited no more than 10 minutes, and then added the watercolor wash. The ink did not leak through any of the pages, and it was water-resistant on all of them.
These papers feel different to the touch, but I can't really tell any difference in how they handle the ink or the paint.