Inspiration from the Recent Picasso Exhibit
Our Journal Study Group went together to see the recent Picasso exhibit at the Met. Picasso's linocut reinterpretation of a Lucas Cranach II painting made us wonder whether could reinterpret a master painting and make a print using fun foam stamps.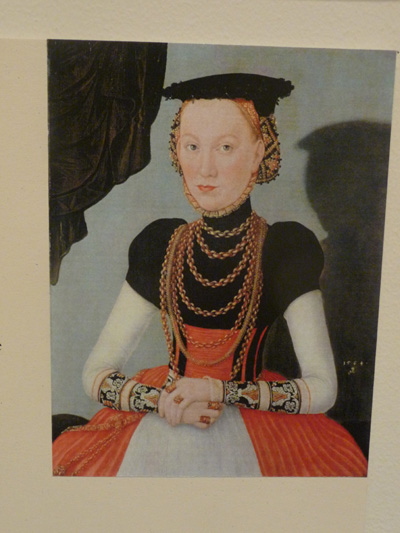 Lucas Cranach II, Portrait of a Woman, 1564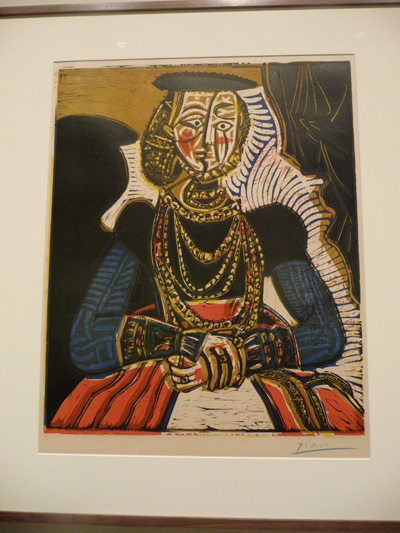 Pablo Picasso, Portrait of a Woman after Lucas Cranach II, 1564
Pat developed a method for this challenge and published a recent article about it (faux silk screen printing) in the September/October issue of Cloth, Paper, Scissors.
As we exited the Picasso exhibit, Melanie and I saw Cranach The Elder's painting of Judith with the Head of Holofernes and we immediately selected it for our challenge. Pat selected a painting of St. Jerome by El Greco. Today we gathered around my dining room table and made our prints.
I took a photo of the painting in the Met and made a painting in my sketchbook in preparation. Today I traced it, transferred the image to adhesive backed fun foam, and made multiple stamps (at least 12!). Here are the 3 images.
Cranach Painting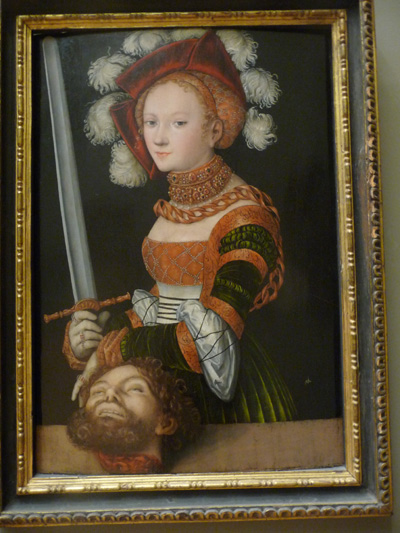 Lucas Cranach the Elder, Judith With the Head of Holofernes, 1530
My Sketchbook Page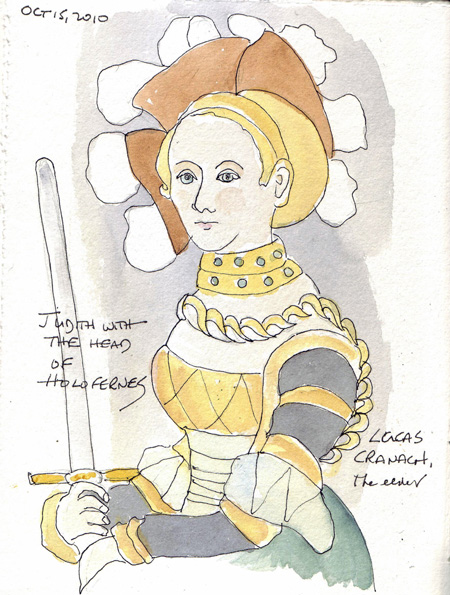 My Stamped Image: approximately 6 X 9"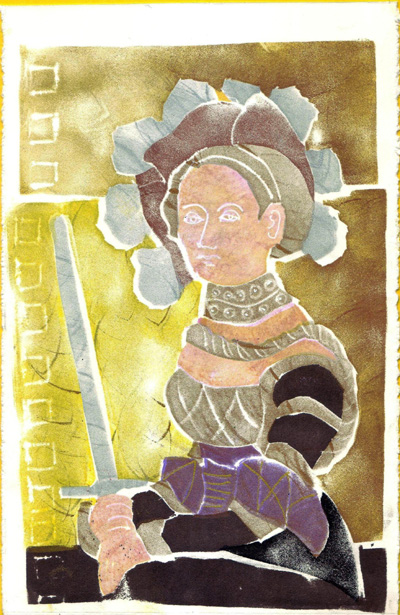 I ran out of room on my sketchbook page and didn't draw Holofernes' head. I'll need to do it separately, make stamps, and add it to my next print.
Go here to see Melanie Testa's print ( she has his head!) and here to see Pat Gaignat's print. We agreed to each upload our prints this morning. I thought for sure that Pat was going to describe me carving stamps with a box cutter or upload a photo of the mess I created, but she didn't. She did however, talk about the men outside my window. Our apartment building is in the final phase of facade repair, and since we live on the second floor, the scaffolds are right outside our windows. Over the last year Pat has taken many photos of "the men."
We had lots of fun while working on our project, learning and experimenting as we went. My drawing was biggest and I failed to simplify enough, so they were pushing me along. They wanted me to get done so I could make a tag for each of them before they left! See the tags on Pat's blog post this morning.