Playing With Yupo in the Journal Study Group
Yupo, a synthetic plastic "paper," was discussed many times over the years on the Everyday Matters message board and/or members' blogs. However, I never was interested in playing with it until I saw wonderful watercolor paintings, using crayons as a resist, on Yevgenia's blog.
You can search her blog using the word "yupo" and see what I mean. Yevgenia has a good, short, tutorial on her blog about painting on yupo and she was wonderful to answer my questions by email.
My Journal Study Group, 4 artbuddies who all keep sketchbooks, make art quilts, and love bookbinding, meet regularly in NYC for afternoons or full days of fun. While we were on one of our field trips, we stopped in DaVinci's Art Store and I bought a sheet of yupo to play with. Yesterday we gathered in my apartment and tried painting on it. At one point, during lots of giggles, I said that I thought that we were at the very bottom of the "Yupo Learning Curve." I hope Yevgenia isn't horrified by my very first results.
Here is the evidence: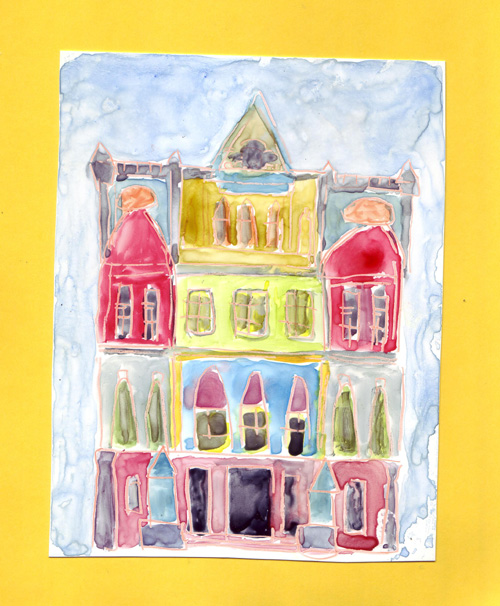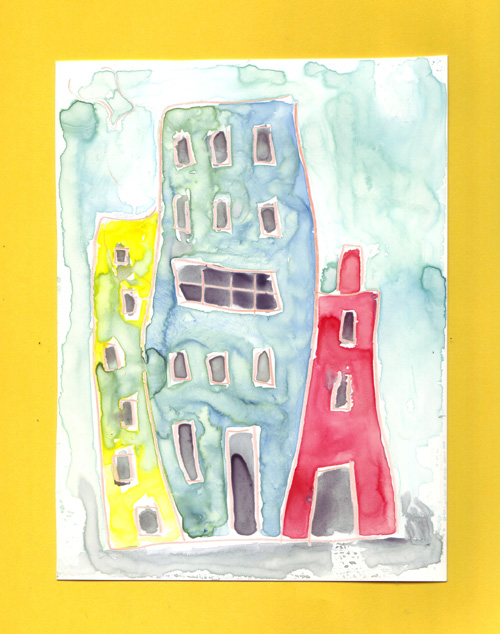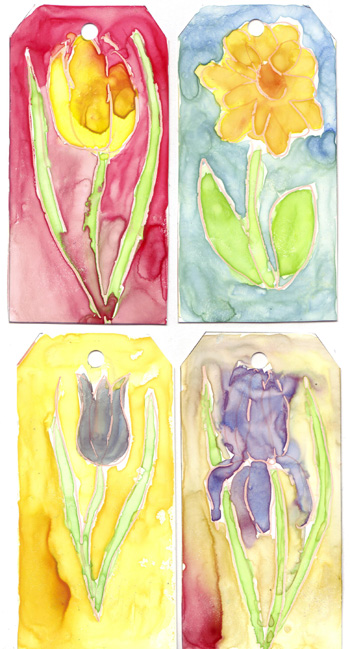 These are 4 paintings on Yupo that are cut the size of shipping tags.
I don't think that I will use yupo very often, but I truly believe that it is important to get out of your comfort zone and really play - preferably spending the time with like-minded friends who love to laugh.
Next: My preliminary "lines" with a ruling pen using thickened black dye on fabric:
My artbuddy Melly is responsible for this departure from my comfort zone and she even brought her ruling pen yesterday to give me another quick, in person, tutorial. I'll post these "line drawings" after I have a few more. I'm really excited about the possibility of drawing on fabric with dye and a pen!! Think about the book cloth covers I'll be able to make for sketchbooks in the future!