Figure Drawing and Illustrators Week in New York City
I discovered that they were having a special evening at the Society of illustrators this week after I arrived. There was a brief announcement the week before that I didn't hear and a listing in the program for Illustrators Week. There were 4 musicians (instead of the usual two), at least twice as many artists sketching, and an audience full of well-known illustrators (but certainly not to me). The energy in the room was amazing and the drawings that I could see from my seat were incredible.
There were two models, as usual, and an illustrator - in street clothes with an added mask, or hat - posing with them for 10 minute poses. It was difficult for me to draw 3 models in 10 minutes, so I focused on what I could do and just enjoyed the experience. Here are sketches with two illustrators who were sitting near me - both are fashion illustrators
This was one of the models with Bil Donovan - a very friendly and amusing man. I sketched in 9B graphite and had trouble increasing the contrast without also increasing the smudges!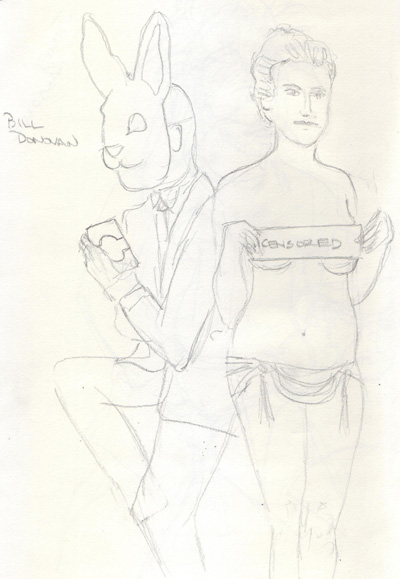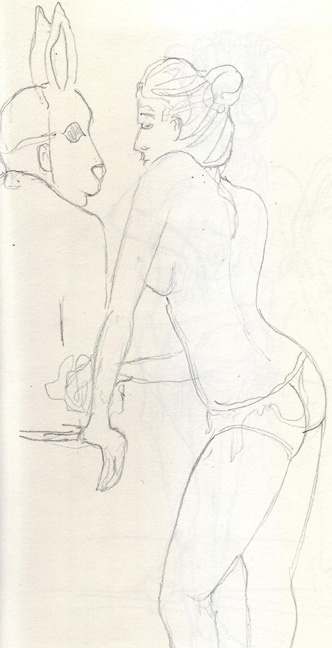 The final illustrator modeling (out of approx 10) was Robert Richards. He sat behind me throughout the evening and almost every other illustrator took the time to come greet and speak to him. When I looked him up, I learned: "The New Yorker multi-talent Robert W. Richards started his career as an illustrator for the fashion world; his striking talents delighted the fashion tsars in Paris and Rome. His clients included Yves St. Laurent, Valentino and Gaultier, among others. He drew portraits of Hollywood stars like Cher and Tony Curtis, and worked for years with gay publications like The Advocate and Mandate."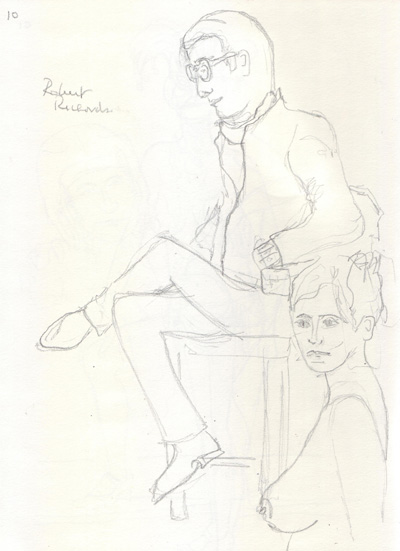 It was a memorable evening - and I will certainly attend if they celebrate Illustrators Week the same way again next year.