Learning to "Paint Outside the Lines"
Linda Kemp's book, Watercolor Painting Outside the Lines, was mentioned on the Everyday Matters message board, and on View From the Oak Blog. When I have gift cards, I buy this type of art technique book for my library and this year it is one of my goals to actually read and sometimes do exercises or demos from some of these books. This was my book for August.
In order to really understand the technique of painting just the negative space, I had to try the first two exercises in this book.
Exercise 1: Paint many different size circles in groups and paint only the negative space. This painting has 5 layers. I was quite messy, and didn't keep nice smooth edges, but I accomplished my goal. I did understand the concept after doing this exercise.
I just found Linda doing this exercise on a You Tube Video.
Exercise 2: Same technique, but with a stem with 2 leaves, and a watercolor underpainting. Again, I was quite messy with the outlines, but now understood working wet-in-wet and creating interesting color washes.
Although I did this exercise from her book, I just found a demo of it on her website.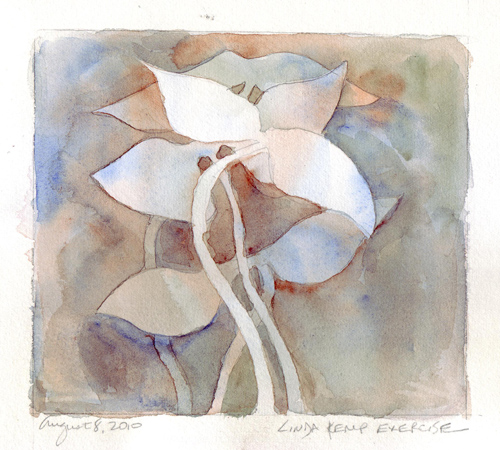 Extending the Lesson Using My Original Image: Friends brought a lovely bouquet of flowers Saturday evening and I decided to use the flower and leaf shape from one of the flowers to create my own negative painting.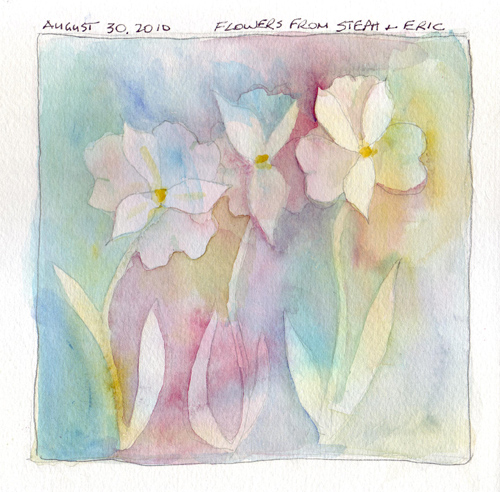 Then I created Two Magnetic Bookmarks using the same flower and leaf shapes. The technique for making these was posted previously. But now I use individual magnets sold at Staples as adhesive business card magnets - and I cut them in half vertically.