A Weekend in Washington, DC
We spent a long weekend with our grand daughter Annabelle in Washington DC and my daily journal pages were all done in a sketchbook that I have devoted to her neighborhood and her life during each of our visits. Previous entries can be seen by clicking on the Washington DC category on the right side of the page.
When I asked Annabelle what I should draw, before we took her to day care on Friday, she told me an elephant. So I painted one of her very small stuffed elephants. On the way to the Metro, I took several photos of her walking/running ahead and drew that image for the rest of the page. I still rarely sketch my grandchildren except from the back because I'm always disappointed that my drawings don't look like them.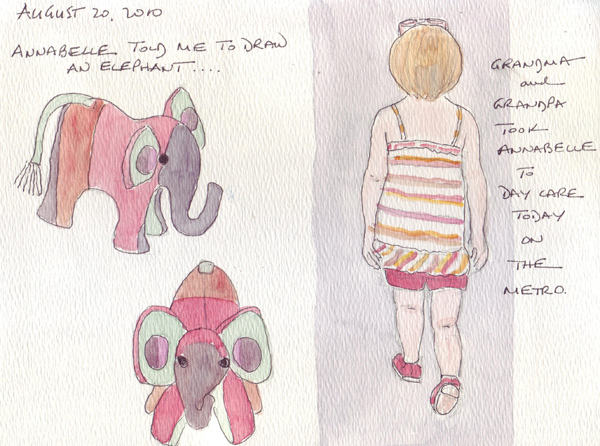 On Saturday morning we went to work with Daddy at the NIH Clinical Center, so she could play with Grandpa and I could see the art quilt exhibit that is currently hanging in the lobby.
Art quilters who read my blog should look at the link - each spectacular, color photomicrograph taken as part of a research project was translated into a quilt by individual artists.
In an alcove off the lobby, near the wall quilts, there is a huge fish tank with several beautiful, large tropical fish. This one was my favorite, although we need to contact the curator to learn its name. Any help from fish experts would be appreciated.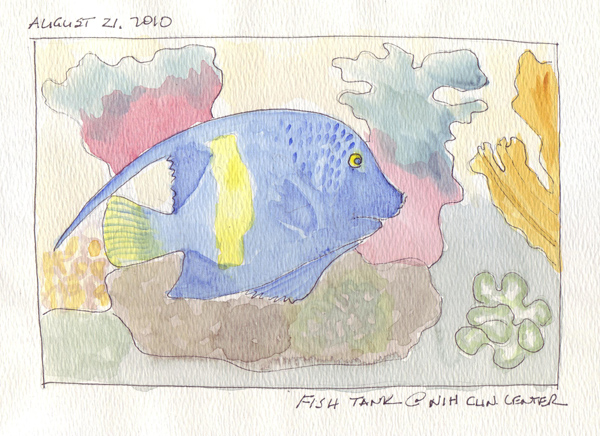 There were intermittent showers on Sunday so we went to the Smithsonian Museum of Natural History. The squirrels are quite tame around the Washington Mall and this one eagerly took Annabelle's acorn when she dropped it for him at her feet. Inside the Museum there was another great fish tank with lots of Nemos - as Annabelle pointed out.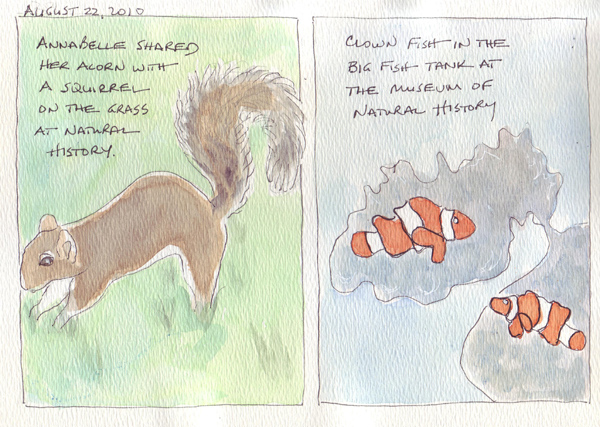 Annabelle is our only grand child that doesn't live in New York City - and I continue to be delighted that we're creating memories of our visits in the Annabelle Sktchbook.