The Central Park Sketching and Art Meet up Group
Our group met at the Metropolitan Museum of Art on Saturday, instead of in Central Park, because of the threat of inclement weather. Our first drawing session was a major challenge - the Starn brothers bamboo structure on the Museum rooftop. I decided to really limit my scope and to focus on the method that they used to connect the bamboo and creat a structure which supports many people on internal walkways.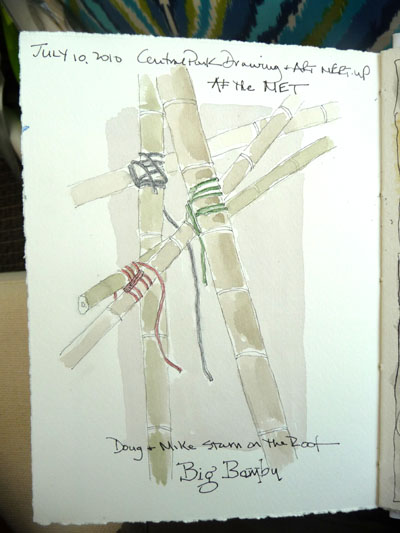 Our next drawing session was in the current exhibit called The American Woman - from the costume institute. I already sketched some of the fashions in the exhibit on a previous visit and this time concentrated on the room called "The Heiress."
Our 3rd and final sketch was in 19th C. European Paintings. I am studying Cezanne's card players over a several year period and this time did a simple line drawing of one of the card players. For more information about this project and my 2007, 2008, 2009 paintings, click here.