Cezanne Card Players at the Met
In the summer 0f 2007, we saw an exhibit of Leon Kossoff's drawings at the National Gallery in London. Although I didn't love the style of his Conte drawings, I was fascinated with his method of working as an artist. Kossoff was born in London in 1926 and is a prominent member of the School of London which also includes Lucien Freud. On the exhibit page, there is a link to one of his very rare interviews, actually done in his exhibit space. Kossoff never paints from photos and although he doesn't consider himself accomplished in drawing, he starts every painting with a fresh drawing and then takes his work back to the studio for painting. Since he was a child, he has drawn and redrawn many of the master works at the National Gallery, and in the interview he relays how he gets his inspiration from these drawings and every day wakes up saying that maybe today he'll learn how to draw!
http://www.nationalgallery.org.uk/exhibitions/leonkossoff/default.htm
I wondered whether drawing and redrawing a masterpiece that speaks to you would lead to some type of magical experience if you were in the presence of the masterpiece and drawing it over many years. So I thought I would try it when I returned to New York and the Metropolitan Museum of Art. Last January I selected Cezanne's Card Players which I have always admired. It is prominently placed in the 19C galleries and actually has one of the few gallery benches in front of it in the middle of the room.
Using watercolors, instead of oils, was a challenge, but I really wanted my work to be more than just an ink or Conte drawing.
Here is the link to my drawing from Jan 2008:
http://www.paperandthreads.com/2008/02/museum_visits_in_new_york_city_1.php
Here is the link to the painting from from the 2008 drawing:
http://www.paperandthreads.com/2008/05/cezanne_card_players_painted.php
Yesterday I arrived at the Met when it opened and had 45 minutes during which I was completely alone drawing the Card Players in one of the 19th C. galleries. The Met allows pencils, but not pens or paints, so like Kossoff, I returned home to finish it. But I wanted to try to reproduce the colors, and worked from a photo that I took.
My 2009 Painting: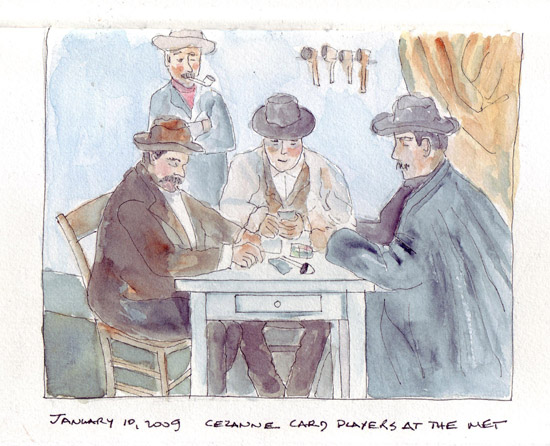 Cezanne made 5 Card Player paintings. The first one has 5 figures and is part of the Barnes Collection in Philadelphia. The Met has the second one which was painted in 1890-92. - which has 4 figures. The remaining 3 all have two figures.
I also thought that it might be fun to see how my style or skills change over the years - so far not much to my eye. But I wonder whether next year I might decide not to draw in ink, or perhaps to change the colors, or even to move to more of an abstraction. In the interview, Kossoff tells how he once went home from a National Gallery drawing session, and just painted the Rembrandt painting using his own style, without a predrawing on the canvas. He has no idea why his mind just wanted to do that!