New Watercolor Sketchbooks
Moleskine lost a customer forever, when they ignored requests to make their watercolor journals in a portrait format in addition to a landscape format. I now make all of my watercolor journal sketchbooks in a 6 X 8" size using 140 lb Fabriano Artistico soft press paper. Recently I decided to make my own book cloth using fabric that I create with procion MX dyes. Here is a picture of #5 and 6 in the series.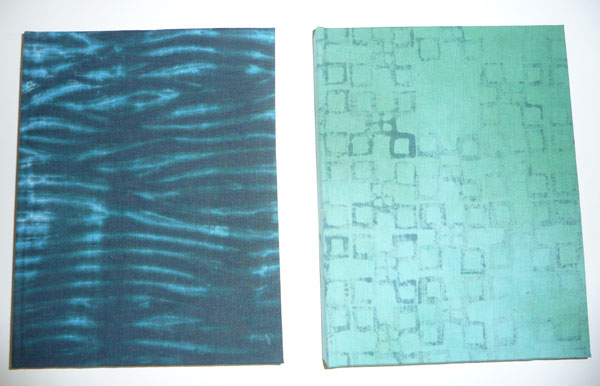 The book cloth on the left was created using the pole-wrapped shibori technique. The book cloth on the right was first dyed with thick procion MX dye - blue to green - and then stamped with one of my newly made fun foam stamps using a darker color dye. The cotton cloth was then fused with 45 gm Thai mulberry paper using Wonder Under.
The covers of this new series of journal sketchbooks are so "busy" that I used solid color Mi Tientes paper for the end papers. There are so many colors available that I can always find one that I like. And the weight of the paper is perfect.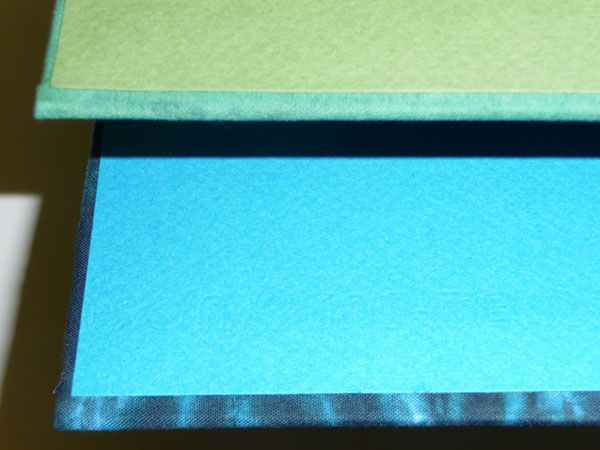 More Bookbinding: Our small Journal Study Group made Tag Books at our meeting in June. I made one previously, based on a Gwen Diehn design, and we used the same method to make these. The books hold many shipping tags which are our "Art Trading Card" equivalent. When we are working together, everyone needs to make enough of the same tags to give to each other.
These are the books we made: