Grandparent Visual Journal Pages
My daughter's 3 children (ages 7,5,3) spent 3 days with us while their parents celebrated their anniversary at the Beach. They are really energetic and fun children, so I dedicated my daily journal pages to them. The two youngest ones actually "colored" in their sketchbooks during the weekend and had me draw some of their favorite images for them to color. New York City was soooo hot, that we started each day at the newly renovated Central Park playground that is next to the Metropolitan Museum of Art. They wore their bathing suits to take full advantage of the water play for several early morning hours.
Sydney and Callum have Christmas birthdays and for the second year in a row Syd and I celebrated her birthday in July with a trip to the art supply store. This year we went to Dick Blick and she selected a wonderful assortment of art supplies and activity kits. She used the last few dollars to buy cute little flash card notebooks for herself and two brothers, so I sketched all of them.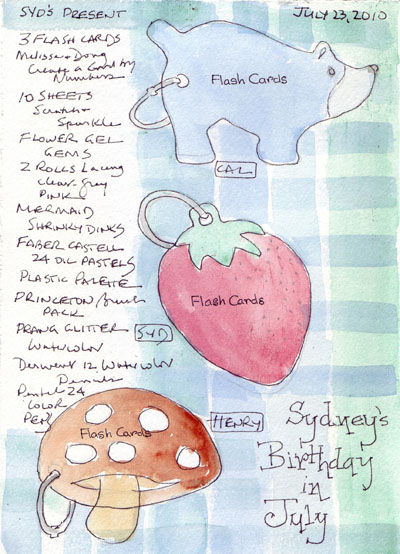 Callum really, really loves dinosaurs and dragons and brought a big box of them to play with during the weekend. He was showing me his squishy dragon when I decided that this was the perfect image for the day.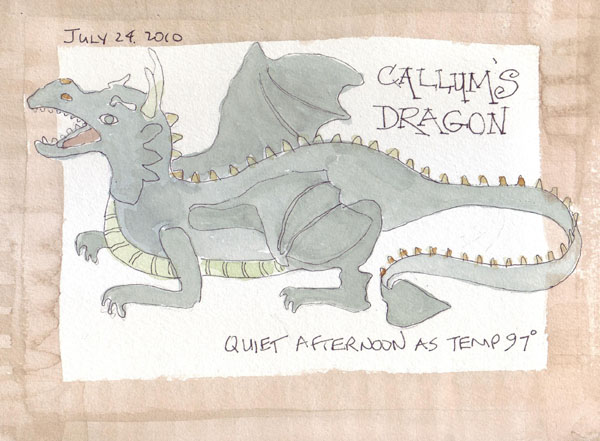 Yesterday afternoon, my son dropped off their youngest (11 month old Zach) while they went to a baseball game to celebrate their other son Robbie's 5th birthday. Zach stands alone, crawls really, really fast, and would love to be walking-running. We spent some time with him in our long hallway, pushing the baby carriage that we bought for Syd for her 1st birthday (but now lives with us to share with the babies). Here is Zach squealing with delight as Syd and my husband try to slow him down a little.
After Henry, Sydney, and Callum went home and Zach fell asleep, I took a few minutes to paint Zach's really cute little sandal.