The End of my Mixed Media Journal
I am uploading the last 2 page spread, acknowledgements, and the back cover of my mixed media journal. It was a great project and I'm already making another one of these 8 X 10" watercolor paper journals, although I'm not sure how often I will work in it.
Single Page Plus back of Rear Flap:
Over the past several years, I celebrated my love of coffee while doing Every Day Matter weekly challenges. It seemed like the perfect topic to use to finish this play project. The collages were scanned, printed, and cut out from sketchbook pages that show how many ways we have to make coffee at home. The square stamp is actually 4 small square stamps of different sizes that can be combined using different stamp inks.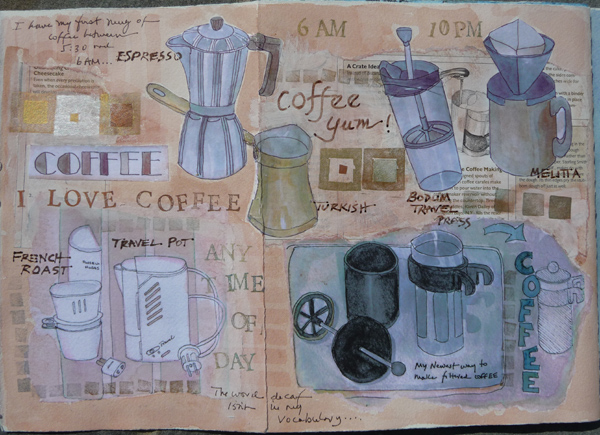 Inside Back Cover and Back Cover Flap:
I wrote myself a long note about the circumstances of this challenge by Melly and Pat, and my process and the fun that I had. I decided that I definitely needed to acknowledge my muses and used pieces of a photo of the 3 of us on a recent field trip to see Art Quilts at the Morris Museum.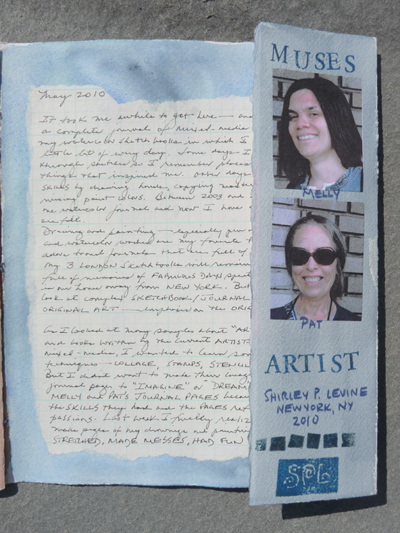 The Back Cover:
I looked up the 3 Graces and the mytholocial muses and decided that this was a perfect image for my back cover. I previously did the drawing in the Greek and Roman Galleries at the Met, and scanned, printed, and collaged it to this page.
This was a fun project, and an interesting watercolor journal to use. I made it from Teesha Moore's YouTube video of the 16 page journal (really 12 pages plus flaps which are slightly narrower).