More Mixed Media Journal Pages
I posted this page several weeks ago - it is actually the first flap in the Teesha Moore 16 page watercolor journal - and when opened it leads to my full "Les Fleurs" page. The flower image was scanned from my sketchbook, printed in color, cut out and added as a collage. The stamp is one of the new ones I created when making this journal.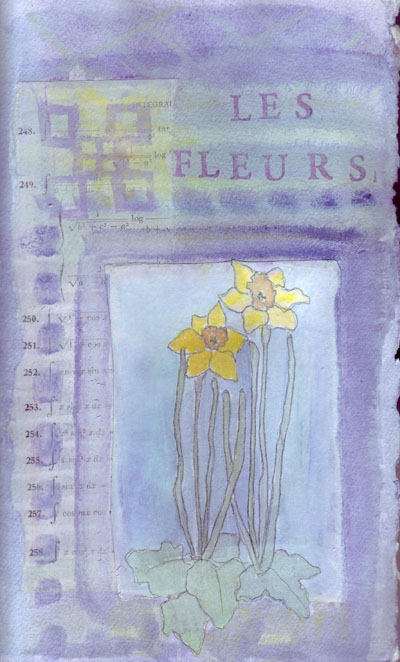 This is a two page spread in the journal - the back of the flap and the next page. Each of the flowers except the iris were collages taken from sketchbooks. The iris was drawn onto the top layer when I was finishing the page. This is a photo because the page was too big for my scanner.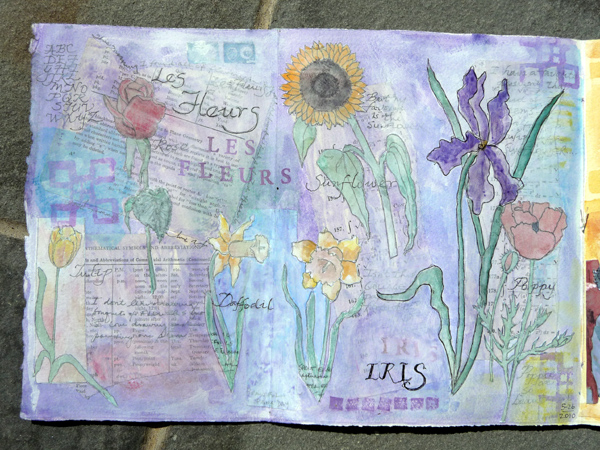 I think I'm finally figuring out how I want to use my journals/sketchbooks. From the time I began this adventure and joined Every Day Matters, I've considered my sketchbooks as visual journals - sometimes used for practice, as when I did exercises from art books, or copied drawings of the masters, but most times used as a daily visual journal. I don't want to change that. But making the mixed media journal allowed me to see that I can print previous sketchbook pages, and use others as inspiration for redrawing images, to be used in mixed media journal book pages or artwork that is separate. However, image resizing with Photoshop, a scanner, and a color photo printer are necessary and my dining room table was full of paints, brushes, gel medium, gesso, stamps, stamp pads, calligraphy pens, acrylic inks, Pitt pens, scissors, rulers, and exacto knives. If I'm drawing at home, I do my evening journal pages with my sketchbook, pencil case, waterbrushes, and travel watercolor kit on the couch - a much simpler process!