Family Research
In 2000 my husband and I realized that we knew little about our ancestry, and family members who knew the information were aging. We decided that we would like information about our family at least back to our great grandparents. I honestly believed that this was going to be a combined project, but I loved doing the research and problem solving and my husband loved learning about my discoveries. My ancestors were all in America by 1880 - pre-Ellis Island. My husband's family only started to arrive in 1900, so the approach and the records were vastly different. I love learning new things and New York City has wonderful resources between the New York Branch of the National Archives and the Milstein Division of the New York Public Library.
Over the course of the next several years, I easily completed research back to our great grandparents - with census records, passenger lists, naturalization papers, and birth-marriage-death certificates, solving a few family mysteries along the way. However, the family that I knew the least about was "Parker" - my maiden name. One of my goals this year was to review my research records and resume the search.
These 3 journal pages were done as I prepared for the project.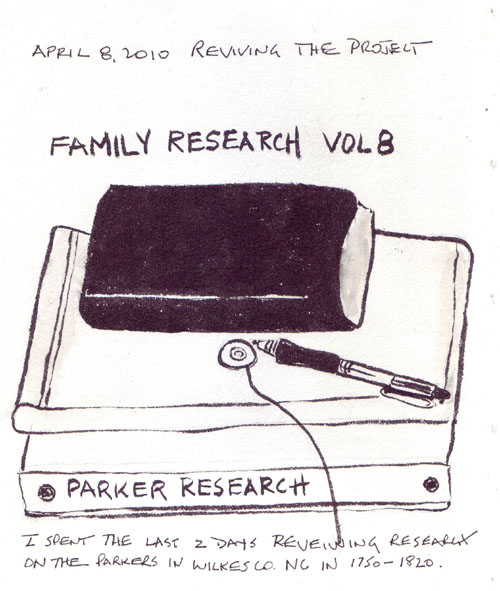 I kept detailed research journals since the beginning of my research - and I'm now on #8 (4000pages)!
P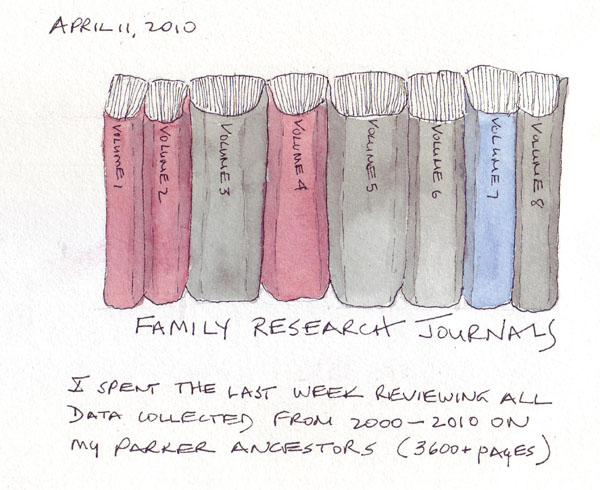 Packing for Research Day: I spent all day Tuesday at the New York Public Library - trying hard to find the father of my Great-great grandfather John Parker, in Wilkes County, North Carolina - through marriage bonds, land deeds, estate sales and inventories - collecting information about every Parker head of household in Wilkes County in 1820. I will continue to research these Parkers until I have enough information - but research in the South is very different because the records are so different and so many were lost in burned courthouses during the Civil War.