More Pentel Pocket Brush Pen Practice
My opinion of this pen is still open, I find it impossible to draw with but easier to use after I have done a quick pencil sketch. So in my daily sketches, I'm trying to periodically use it instead of the Sakura Pigma Micron or Zig Millenium pens.
I copied another Rembrandt drawing, in pencil first, because he achieves so many line widths in his drawings. My biggest discovery was - this is watersoluble ink in the Pentel pen. So now I know it will never be my regular pen for pen, ink, and watercolor wash drawings.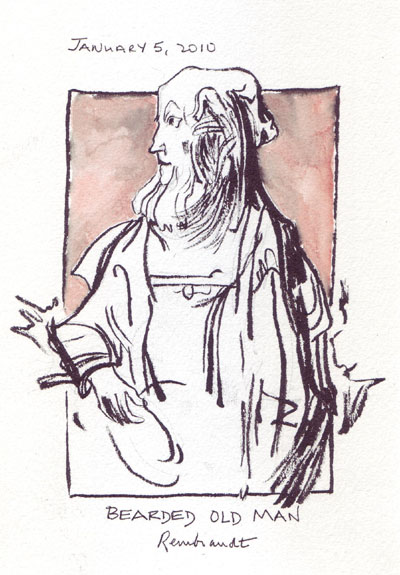 I then decided to use it on one of my own sketches, instead of practicing from Rembrandt. While my baby grandson was asleep I sketched the top of the NYC Soldiers and Sailors monument - which can be seen out of my son's apartment window. Zachary is a master of 30 minute naps, so I knew that I had limited time to do the pencil sketch and then complete it with the Pentel pen. It was fast, loose, and fun. But I had to be very careful adding a little watercolor because the ink is not permanent.