EDM Challenges #258-261
I still enjoy completing the EDM Challenges because they take me out of my comfort zone and help me decide what I should draw/paint for at least one of my daily sketches each week. However, I regularly complete them 1-2 weeks after the challenge was published, as I try to settle on a specific image. This time it was Challenge # 259: Draw a view from your pet's perspective. We don't have a pet!
Challenge #258: Draw your closet
I sketched one half of my clothes closet. We live in an apartment building in New York City - with the types of closets that were popular in 1926, i.e. no walk-in closets. However, we are luckier than one of our sons who lives in a house from the late 1800s in Capitol Hill, Washington DC. They have only a single closet in the original house and rely on armoires as in the past. Here is my sliding door clothes closet (part of a post-1926 renovation), with only half exposed.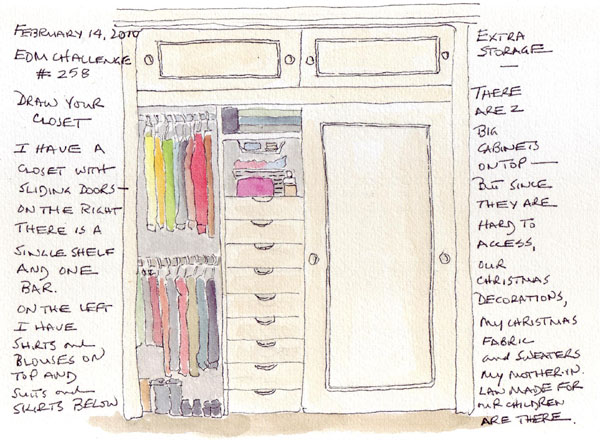 Challenge #259: Draw a view from your pet's perspective.
Although we don't have pets, I realized that my 5 month old grandson spends his days being moved from one place to another by the grown-ups in his life. And he has a limited view from some of these spots, much like a pet. It took me longest to decide how to answer this challenge. Here is 5 month old Zachary's aquarium view when he is in his bouncey seat.
Challenge #260: Draw your suitcase packed for a trip
This is my small suitcase that I take away for short train or car trips, but it is not yet packed for my March trip to Washington DC.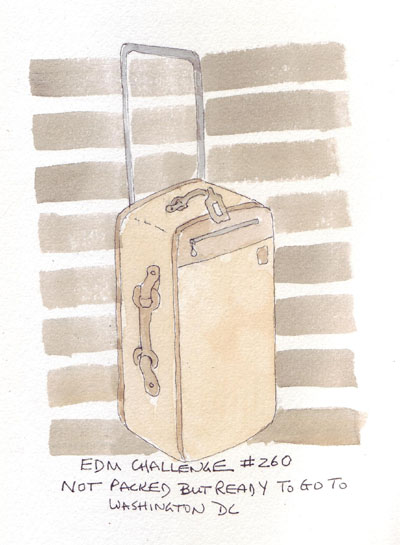 Challenge #261: Draw an Olympic Event
Although the ice skating events are my favorite, I really love the "soaring" ski jumpers, with their extremely clean lines.