Four EDM Challenges and One Daily Journal Page
My days were full the month before Christmas, with Holiday preparation and activities, and Kate's wonderful Artist's Journal Class. I still love completing EDM Challenges, but had enough art to do each day without them. So here are 4 that I wanted to post before the end of the year (#250, 251, 253, 254). The only one I completed during the week it was assigned was "Draw a Pine," (#252)and that was possible because I brought home a pine bough from the Christmas Tree lot where we bought our Christmas tree.
EDM #250: Draw Something You Got for Free
I received a Christmas t-shirt last year when I made other purchases, and this is the embroidered design on the front.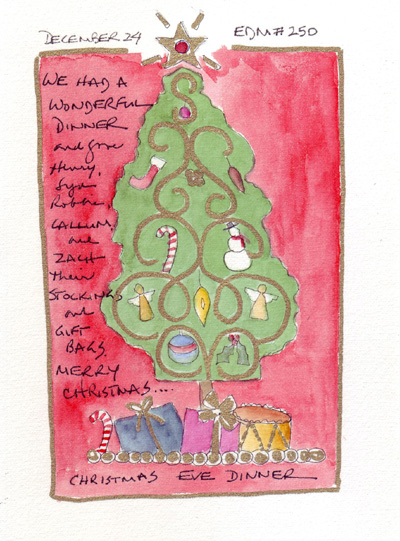 EDM #251: Draw a Perfume or Perfume Product
This is my absolute favorite body cream and I need to use it daily during the winter months.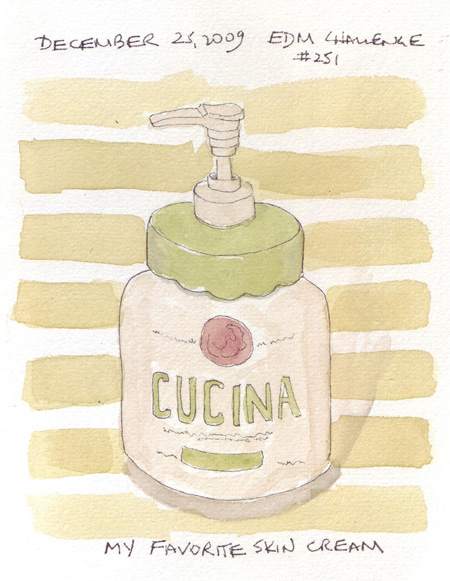 EDM #253: Draw a Sock
This is one from a pair of Christmas knee socks which I haven't worn in more than 15 years. Why do I still have them??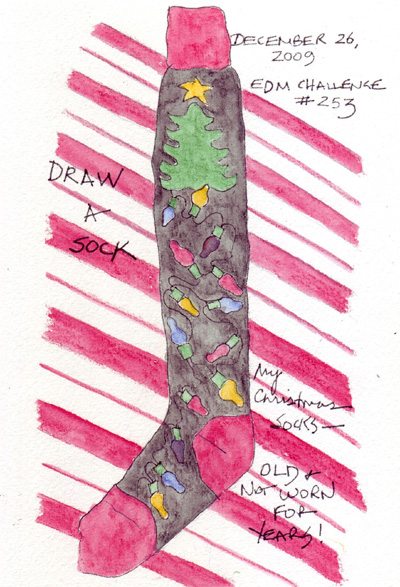 #254: Draw Something Joyful
We had almost 11 inches of snow last week and my husband and I walked into Central Park by 8AM to enjoy it. I love to be out in the snow and couldn't wait to bundle up and explore our area of the Park. This drawing is of my husband in his sheepskin coat and mittens. I still draw and paint family members from the back ONLY! And I love how recognizeable they are!
Yesterday I took care of two of my grandchildren in the morning and then went to W57th Street area to see the fabulous Bergdorf Goodman Holiday windows. They are really not to be believed! This composite page has the reindeer design from Zach's pjs that I put in his Christmas stocking and one of the very small paper cutouts from a Christmas window in the jewelry display.