NY City Ballet - The Nutcracker - for Sydney's 5th Birthday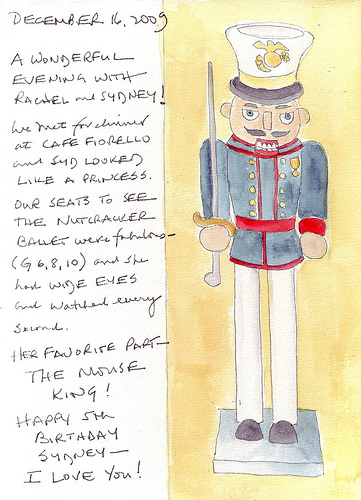 I took my daughter and my grand daughter Sydney to the Nutcracker Ballet at Lincoln Center on Wednesday night to celebrate her Dec 20th birthday. The evening fulfilled all of my expectations - it was magical in every way. She watched every single minute of the ballet, with rapt attention, but loved the Snowflakes dancing in a blizzard on stage and especially the Mouse King the best. I now need to find a photo of the Mouse King to add to my journal for her. If anyone reading this has a photo of the Mouse King from the NYC Balanchine production, I'd LOVE to have a copy!
Sydney - looking very grown up - for her first night at the ballet. Loved the rhinestone headband! And the silver bracelet from her great grandmother (on my last blog page) was a big hit!