Daily Journal Pages
The Nutcracker Ballet, two grandchildren's birthday parties, a marathon sewing week, and a snowstorm are all behind us. I did do daily journal pages and want to upload them before 3 of our grandchildren move in with us this afternoon until Christmas Eve. During this time, I'll probably be drawing and painting with Sydney, so there will still be "art time."
Sydney really enjoyed the Nutcracker Ballet and loved the MOUSE KING - who was scary and attacked successfully by the toy soldiers. Here is my painting - for her.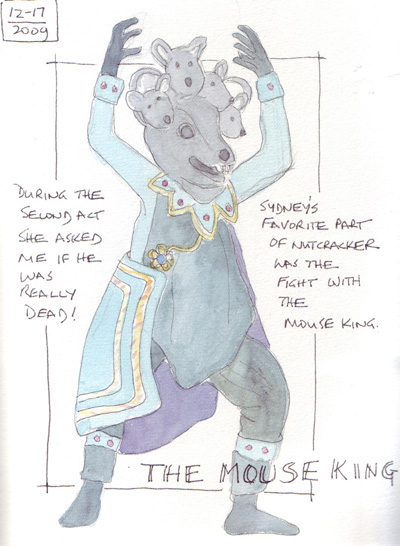 A Peacock Christmas Ornament: Finally finished the peacocks for our tree, Sydney, and Annabelle right before leaving for Syd's Birthday Party. This year I made 3 different types of ornaments: mixed media gold Christmas Trees, dye painted giraffes, and the peacocks.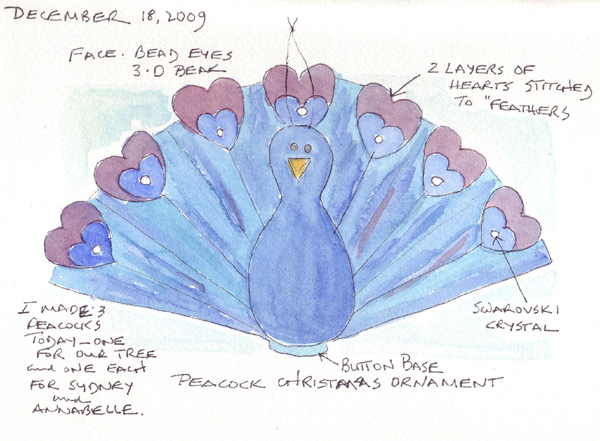 Cal's birthday party was Saturday morning and the cake was a fabulous combination of iced robot cookies and cake.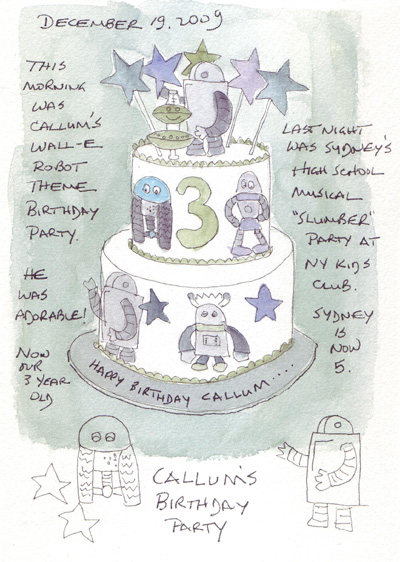 After a wonderful walk through the fresh snow in Central Park with my husband at 8AM yesterday, I returned to finish my Christmas sewing. Our grandson Zachary is now almost 4 months old and I needed to make him the customary family stocking and gift bag. Here is a journal page done after I finished his gift bag last evening.
Photos of my Christmas sewing will probably appear in a later post.