Daily Journal Pages
I am now a volunteer for a local Program called My Own Book. A foundation was developed 10 years ago in order to purchase $50 worth of books for each child in all 3rd grade classes in elementary schools in some of the most disadvantaged neighborhoods. The program started with one school in Spanish Harlem and there now are 40+ schools in all 5 boroughs.
We visited 6 third grade classrooms at PS58 last month to talk about reading and our love of books, and to tell them about the program. We then met each class individually this week, with their teacher, at a nearby Barnes and Noble and worked with store staff to help the children pick out each of their books - adding up their totals ($50/child) in their personalized bags before they checked out. We will return to their school next month so each class can present a program reflecting their experience - the first trip to a bookstore for 90-95% of the children.
While they were sitting together, listening to the plans for their shopping trip, I quickly sketched a few of the children.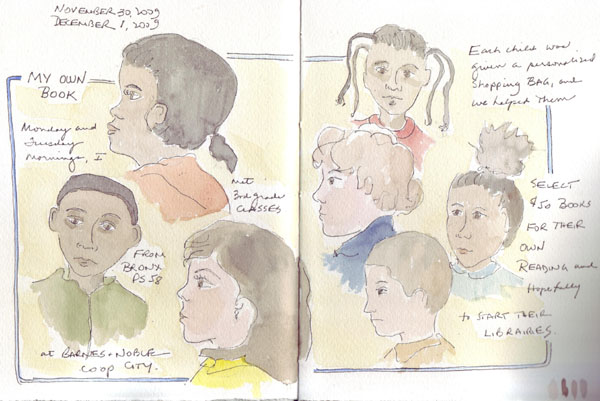 Today I browsed the Holiday Market at Union Square in New York City with old friends who were visiting New York City and sketched as we walked around the market booths. The majority of my purchases were stocking stuffers for our grandchildren, but I did find a 1927 block/building map for our neighborhood - which is great fun to examine.