More Journal Pages
Here are 3 more journal pages - I'm on a roll!
I love watching Project Runway and periodically like to sketch the winning design the evening that I watch it. Here is the oversized sweater and paper-bag waste pants by Althea that all of the women judges wanted to wear, right then.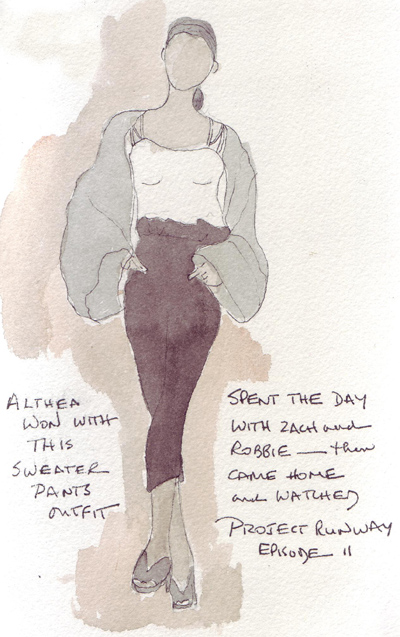 The following day I thought alot about my own love of design and specifically two outfits that I made when I was a senior in college. The one on the left is a suede suit that I made with 5 skins that my boyfriend of the time gave me for my birthday. I had enough suede to make the skirt and front panels of the jacket. The jacket sleeves, back, and front button panel were made from a wool-silk tweed blend that matched the suede. The dress on the left was made as a final exam in a semester long flat pattern design course that I took (after my premed requirements were done and I was already admitted to medical school). I selected a dress from a NYTimes newspaper advertisement and made the pattern and then the dress from a green wool tweed. The top was a blouson style and the skirt had a deep inverted pleat and slant pockets. I don't have photos of either design - amazing now that I have 10 photos of everything with my digital camera.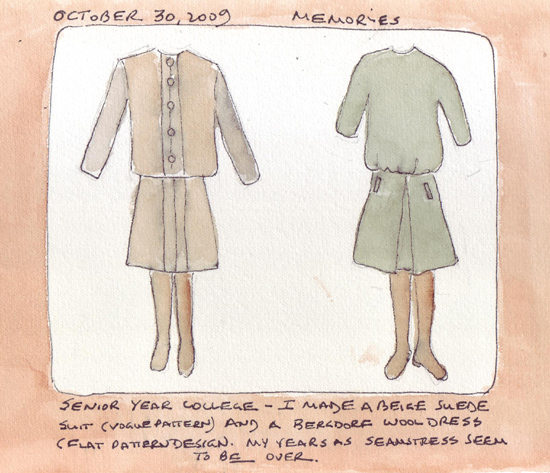 Yesterday my husband and I went to the Fall Impressionist and Modern Previews at Christies and Sotheby's Auction Houses in New York City - one of our favorite semi-annual activities. We start at Christies, then have lunch at Dos Caminos and end at Sothebys - and in the process see well over 500 pieces of art that will be auctioned on Nov 3rd and 4th. I loved a work on paper by George Grosz and sketched a detail from it - a man's head.