3 Daily Journal Pages From This Week
I am currently taking Kate Johnson's "Keeping an Artist's Journal" on-line class, so I will probably upload daily journal pages more frequently to my blog because I need to also upload them to our class Flickr pool to share with Kate and my classmates.
Tueday: Busy Day, so I sketched my lecturer at the New York Public Library Tuesday evening. I did have paints with me, but felt very conspicuous the way the seats were set up. I decided not to finish painting her as I experiment with different ways to compose my artist journal pages.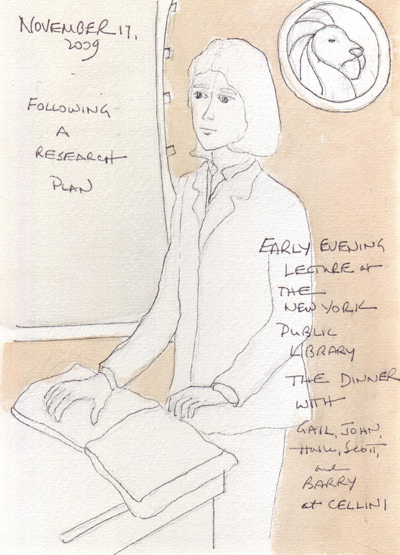 Wednesday: Melanie Testa and 3 other art buddies played with Melanie's method of tracing images from our journals, painting them, painting a background on WC paper in our journals, and then gluing the two layers together. These were sea gull images from my summer vacation journal - and a link to the original journal image from my blog in June 2009. Her method is described in an article she wrote in the May-June 2009 issue of Cloth Paper Scissors.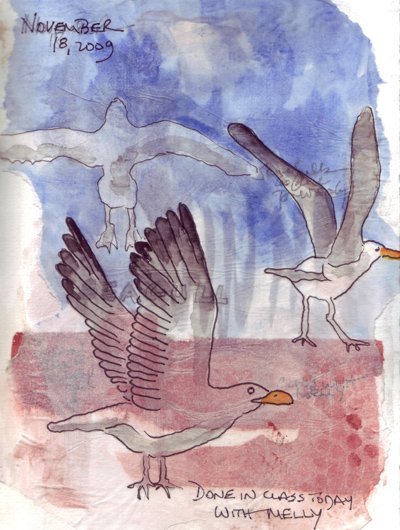 Thursday: Two leaves I picked up from the sidewalk when walking home from nursery school with 4 of our grandchildren. They were sketched and painted when I came home from babysitting last night. I have no idea what kind of trees they are, but every autumn I find a few of these gorgeous patterned leaves on New York sidewalks!