Keeping an Artist's Journal - Lesson 1
Kate Johnson's "Keeping an Artist's Journal" class started yesterday and the first lesson covers the basics: Exploring what YOU want and expect from this class, plus practical matters like materials and supplies. For one of our first exercises, I need to decide what I want from my journal and the class, and plan what will go into my journal.
I keep a daily visual journal and since January 2006 completed at least one journal page per day. Some of these pages were in themed journals, i.e. vacation travel sketchbooks or figure drawing practice. But most daily drawings/paintings are in my chronologic sketchbooks - with dated pages. The contents of each page vary considerably - from personal moments recorded, to Everyday Matter challenges, to drawing or painting practice. Journals 1-7 are Aquabee spiral Globetrotters - purchased because they were inexpensive and therefore I wasn't afraid to mess them up. But the paper wasn't ideal for water media, and I moved to the large Moleskine watercolor journal (pink band) as soon as it was available (journals 8-17). But I hated the landscape format of the book and Moleskine was polite, but not moveable, when I emailed them multiple times to see if they could make it in a portrait format. So I took a weekend codex bookbinding class and now use journals that I make. They are approximately 6" wide by 8" tall and contain 6 signatures, 48 pages, of Fabriano 140 lb, soft press watercolor paper (journals 18-26 - which is the current one). They have paper backed book cloth on the outside which is very sturdy. I took the photograph on some fabric that I just painted with corn dextrin resist and thickened procion MX dyes. One of my goals is to paper-back some of this cloth to see how easy it is to use as book cloth.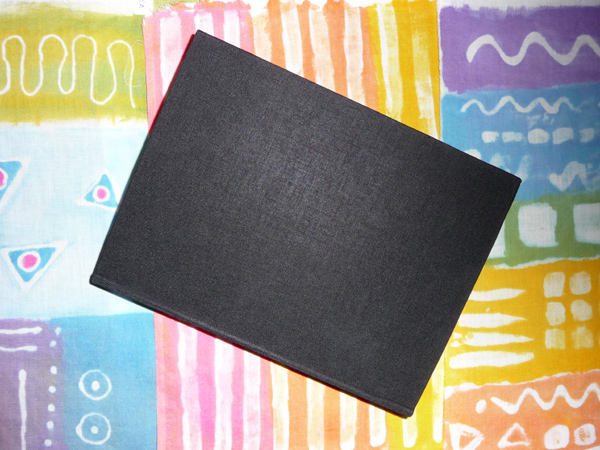 Here is the inside of my current journal, beginning with the double page spread showing my journal, palette, and current art tools. This will be the first page for Kate's class, but before it is over, I will be using Volume 27.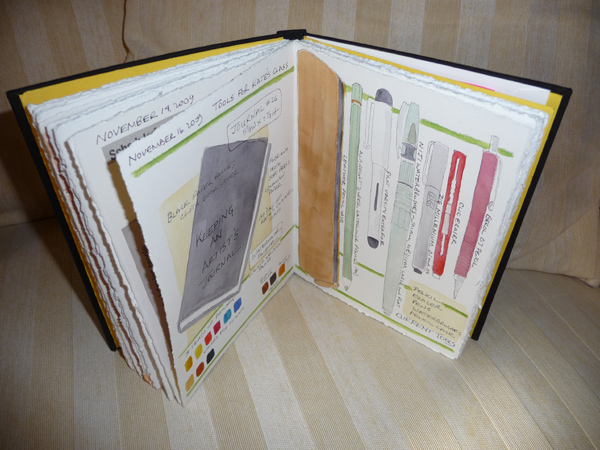 This is the first half of the drawing, showing my journal and current palette. I use 3 triads of primary colors to mix watercolors that I want - plus a few miscellaneous extras. I also have a small commercial travel watercolor kit made by Daler-Rowney which has different colors.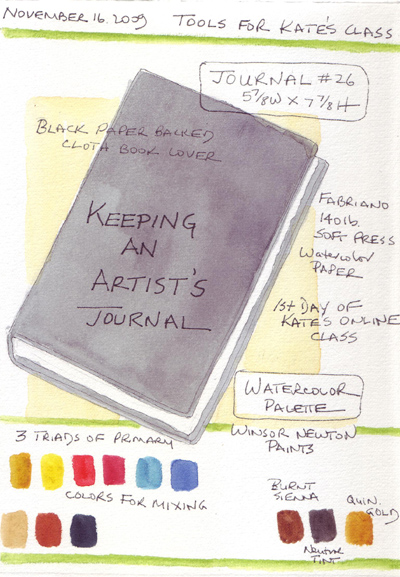 I just realized that I mislabeled the brown on the right which is burnt umber - the burnt sienna is in the bottom triad on the left with yellow ochre and Payne's gray.
This is the second half of the spread, showing my leather pencil case and examples of the tools I carry in it. I have only one, sepia tone, watercolor pencil in my daily pencil case. The other 39 are in a separate pouch, which I take only when I can't use wet media - for example at my neighbor the Metropolitan Museum of Art in New York City.