EDM Challenge #244: Draw the Oldest Thing in Your Refrigerator
Procion MX Dye Stock Solutions: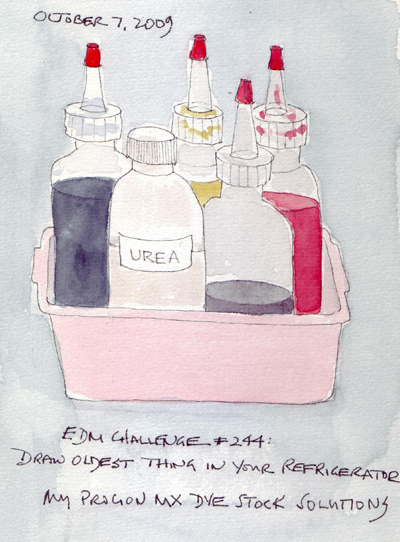 I use Procion MX dyes to "paint" cotton and silk and keep the primary color stock solutions (plus black) in the refrigerator - tightly capped and way in the back on a bottom shelf. I made this batch two years ago and put them away to use again. But for a variety of reasons, I haven't dyed another piece of cloth since then - and forgot about them.
I'm off to the Houston Quilt Festival tomorrow morning, to learn more surface design techniques and have a mini-vacation. This is the 35th anniversary of Festival and my 25th year as a registrant. My sketchbook will go with me and hopefully I'll at least have some sketches of conference participants in their colorful clothes when I come home.