2nd Figure Drawing Session at The Society of Illustrators
I went to my second figure drawing session last evening at the New York Society of Illustrators with my friend Istar. On Tuesday evenings the models are nude, on Thursday evenings the models may wear parts of costumes. I wanted to experience both - and liked both evenings equally well. The setting is wonderful and there is live music during the entire 3 hours. I came home with 9 two minute, 4 five minute, 2 ten minute, and 3 twenty minute sketches. I'm just going to post examples of each.
The models posed with multiple hula hoops - the male model in yellow harem pants and the female model in a red bra and black leggings. The addition of the hoops made the 2 minute sketches more difficult, but fun.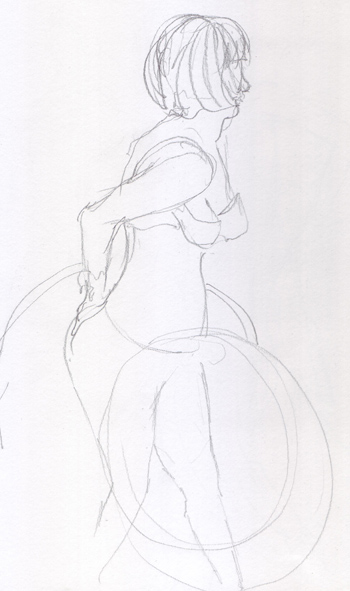 Two models and a hula hoop even made 5 minute sketches a challenge.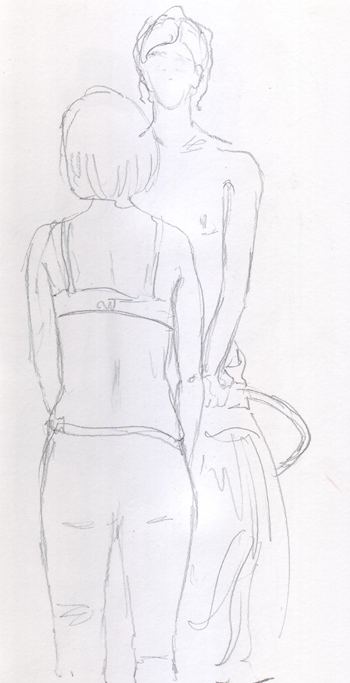 I wanted to remember the costumes in this 10 minute sketch and colored parts with watercolor pencils - but the paper didn't take water well and buckled slightly. For this pose, he put on a black hat and soft ball necklace and she put on an umbrella hat. And she really did have dyed shocking pink hair!
A ten minute pose, with one sitting and one standing - and in different costumes: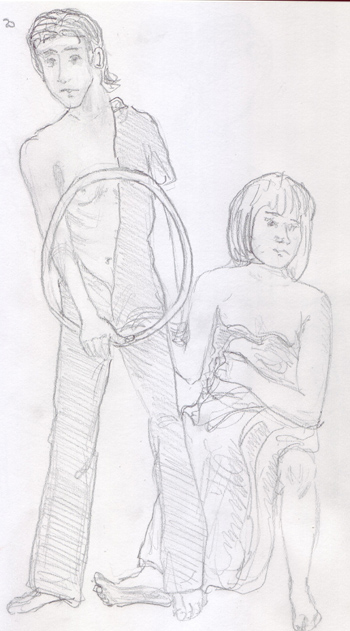 Both disrobed, but the male model wore his black hat and brown boots for the final 20 minute sketch. I continue to have trouble fitting everything on the page when I'm working quickly (just one more thing to work on in 2010!), so you can't see his boots.