The Rest of the Beach Journal Pages
I finally added watercolor to the remaining drawings from our recent beach visit with Annabelle. Early one morning, when we were finishing our beach walk, a plein air painting class was just beginning on the deck of the Snack Shack at Cooper's Beach. Most appeared to be oil painters. I watched them for several minutes, then took pictures and used the photos to recreate the images.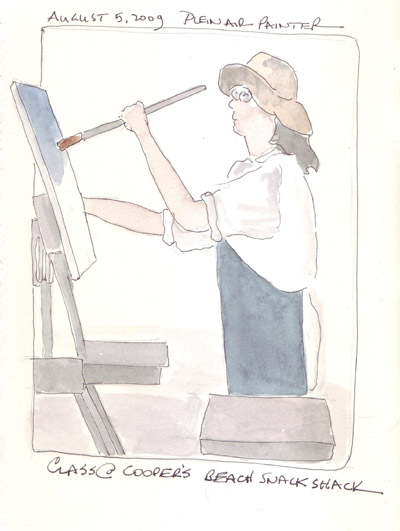 This was the first time that 1 year old Annabelle saw the ocean and she was very wary. But my husband and I were able to take her for a little walk at the edge of the surf. Her father, our son, took this picture and provided it for me to sketch for my journal page. Someday I will need to collect together all of the sketches I've done of my family from the back. It would be a unique portfolio....