Sketchcrawl at the Central Park Zoo - Part 2
I painted sketchbook pages 6 and 7 from our sketchcrawl on Thursday - but will probably leave page 8, the tortoise and the skink, as is. The Snow Leopard is one of two introduced to the Zoo this past Spring and we were extremely lucky to have her moving around her enclosure and for a short while sitting on a ledge directly in front of us. As she jomped from rock to rock, frequently jumping up another level in the process, you sensed what powerful animals they are.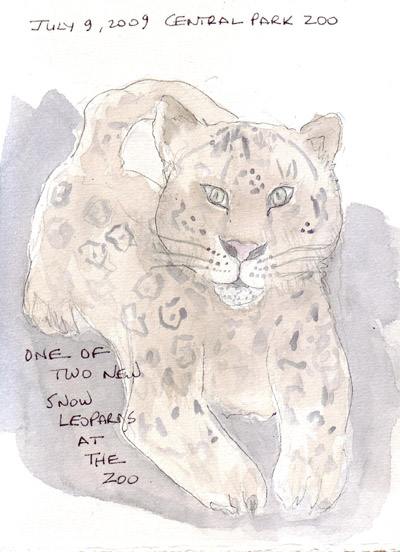 We ended our sketching in the Tropic Zone - a huge enclosure that is so full of tropical birds and other animals that you need to pay attention to see all but the most brightly colored. Here are two of those. I can't look at a Toucan without conjuring up a Fruit Loops box on our breakfast table.