Every Day in May - 17
I spent this morning at the new "Model as Muse" exhibit at the Costume Institute at the Metropolitan Museum of Art. I was a seamstress most of my life and love to see construction techniques and elegant fabrics in couturier clothes. I was less interested in all of the information about the supermodels, but some of the large photographs were wonderful. The lighting for the exhibits was great, but it was almost too dim in front of each to sketch.
The entrance to the exhibit is a display of Dior's dress for Dovima as immortalized in a photo by Avedon.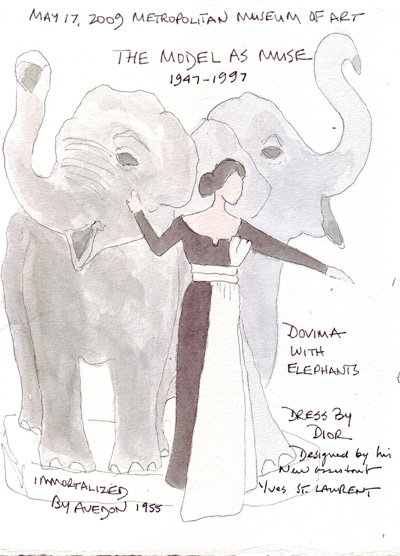 I sketched a few other garments that I liked, and imagine that I will return to draw some of the other exhibits, especially all of the mannequins in one room that are hanging from the ceiling.