More Sketching at the Met
I live close to the Metropolitan Museum of Art and my membership card is used almost as much as my Metrocard. We visited the Raphael to Renoir Drawing exhibit again last Sunday with weekend guests and I sketched from another Guercino drawing. I first learned about this 17th C. Italian artist at the Courtauld Gallery in London - and I'm thrilled to see two more of his beautiful portraits in person. I don't know if I ever linked back to my first drawing "copying the Master."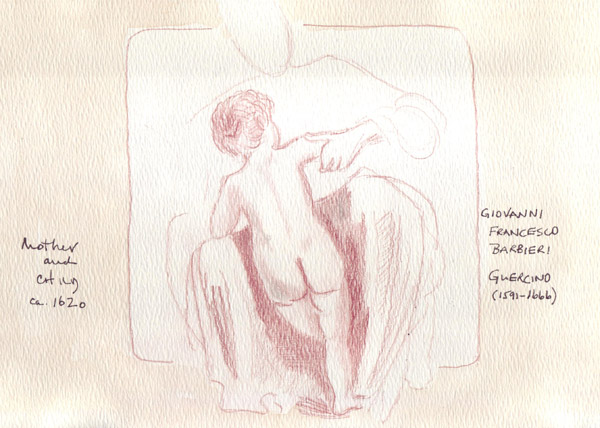 I sketched this as part of a two-page journal spread celebrating the birth of our grandson Callum in London while his parents and siblings spent a year in the city.
Here is my second Guercino drawing from the exhibit at the Met. I posted the first several weeks ago.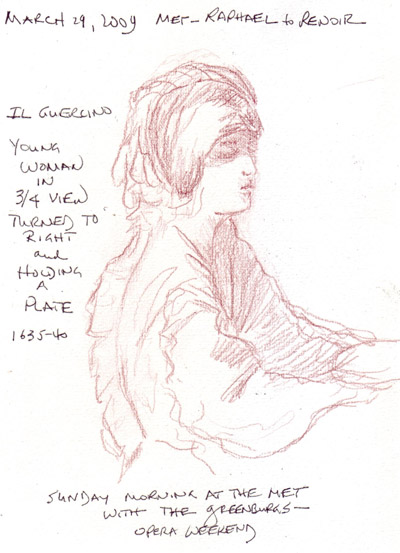 I covet the book of the exhibit - and wish that it were in soft cover. I will probably not be able to resist it during one of my many trips to the Museum Store and can then draw with the Masters for many days after the exhibit closes.
Yesterday I met several NY artists for a mini-Sketchcrawl at the Met. We started in the Modern Art section on the mezzanine, and I experimented with my watercolor pencils by drawing the Chuck Close painting called Lucas. I drew the entire painting with 10-12 Albrecht Durer watercolor pencils and then added water at home. The Met permits pencil sketching only, although lots of pen sketching is done, and I assume there are other exceptions with special arrangements
Here it is as photographed in the Museum with natural light: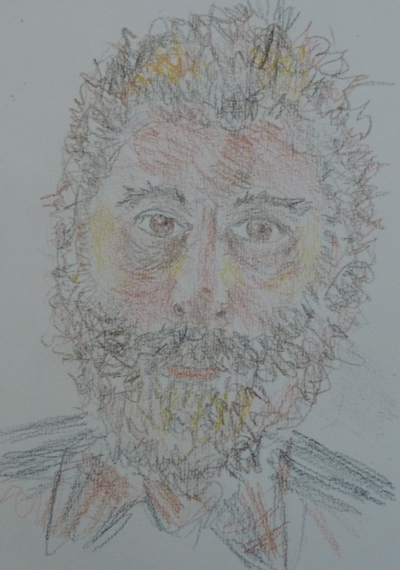 Here it is after adding water at home and a link to the original painting which is done as small squares of color. If I sketched it again, I would increase the size of the forehead - I'm just glad to have "played" so intensely with my watercolor pencils in 30 minutes!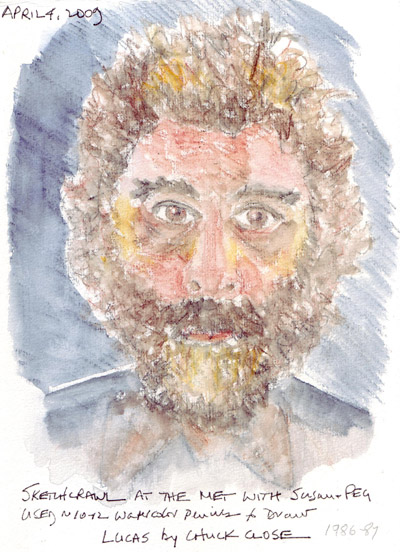 We moved to different sections of the Museum for two more 30 minute sketches and my favorite of those two locations was the Petrie Sculpture Court. Here is my sketch of Sappho, done by Comte Prosper d'Epinay in 1895 - with the contrast increased in Photoshop - because the original colored pencil lines were not dark enough.
We then had a lovely leisurely lunch in the Petrie Cafe and shared our sketchbooks and experiences. Our new group of women who want to sketch together is having fun and we hope that we can meet monthly for our own mini-sketchcrawls. In two weeks I will sketch with several other group members who had other prior commitments yesterday.